How to set up stream groups is the second part of our tutorial series, which we share to assist operators and commercial platform providers to deliver excellent interactive streams to their audience. 
What does stream group configuration have to do with this? nanoStream Cloud offers this to make Adaptive Streaming easier; within the dashboard streams can be set up with Adaptive Bitrate Playback in bulk – it is quick and easy. 
Besides making it easier for customers to manage their live transcoded streams with Stream Grouping, we believe uncomplicated access to the passthrough stream and live transcoded streams with different video quality levels is a must.
Step 1 – Check off Adaptive Bitrate Playback & Live Transcoding
Adaptive Streaming is one of the most important topics for the delivery of interactive content and is essential for a high quality, and smooth experience for live streaming interactive content with ultra-low latency, or so called interactive live streaming.
Let me explain by way of example: A viewer is traveling into the city on a bus.  As they do, their cell phone will connect at different speeds, going from 4G to 3G, up to 5G and then back to 4G. If the person is interacting with live content at the time when they hit a low bandwidth spot, the stream will likely buffer, disconnect, or simply not work at all. In terms of a viewer's experience, there really is nothing worse than getting disconnected.
The answer lies in modern technology: Adaptive Bitrate Playback (ABR) and Live Transcoding are critical features for smooth playback on all devices for all networks and regions. 
At present, most operators are taking a trial-and-error approach when it comes to the settings used for interactive live streams. The best platforms will use adaptive bitrate playback to cope with all different types of network situations. Adaptive bitrate playback handles changing bandwidth; it works by reducing the stream quality, encoding at a lower bitrate based on the available bandwidth. As soon as the bandwidth improves, so does the quality of the stream. This means the viewer experience always remains smooth and seamless, regardless of the device and the quality of internet available at that time. 
More detailed information about Adaptive Bitrate Streaming with nanoStream Cloud can be found in our documentation: Live Transcoding and Adaptive Bitrate Playback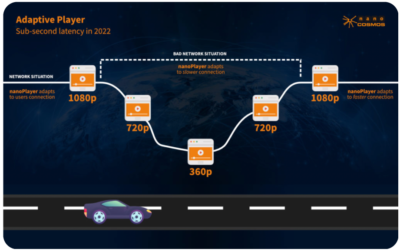 Step 2 – Reach anyone, anywhere, at any time
How do you create a consistent stream for all of your users to access at any given time? Let us take a look at the ingest: If you send a high quality stream let's say 1080p to nanoStream Cloud, you would choose different renditions (720p/540p/360p). According to that, the best suitable quality will be chosen to reach anyone at any given time via all network conditions. 
However, to leverage any bandwidth on a global scale 24/7/365, the live streaming workflow must be paired with a powerful and reliable Content Delivery Network (CDN).

Our global set-up reaches viewers worldwide with more than sixty datacenters in seven geo locations and over 1,000 Servers to make live content available even in remote locations. 
A resilient network with improved automatic failover based on a multi-cloud approach is what it takes to do that 24/7/365 with flying colours: nanoStream Cloud is at 100% uptime as of today – find out more about our reliable CDN in our documentation.
Step 3 – Tie in all features to tackle the bigger picture
Streaming with ultra-low latency successfully does not end here. To stay competitive with ultra-low latency streaming we believe a 360 degree approach is what takes it up with the whole live streaming workflow. Taking affiliated factors into consideration is how to achieve the best Quality of Service and Quality of Experience:
To understand the bigger picture of the live streaming workflow with its challenges and necessity for end-to-end control we recommend this webinar: Streaming Media Latency How low should you go.
Please reach out to our team for further information or any questions: