Go live around the world one second!
Regardless if you want to deliver your ingest from one to many, many to many or even many to just a few recipients, nanoStream Cloud is a ultra-low-latency Global Delivery Network (nanoStream CDN) and light-weight, robust ultra-low latency live streaming solution that works great on all devices anywhere in the world. Analytics, Dashboard, Player, Secure Streaming, Webcaster and more – get acquainted with the wide spectrum of the integrated solution.
All latest aspects of 2021 are covered here, for you.
nanoStream Cloud

nanoStream Webcaster
nanoStream Webcaster is perfect for browser-based interactive live streaming. You can directly send a live stream to your audience from your live camera or screen. With version 5.11.0 you can add a new source type based on HTML5 canvas or other stream sources to enable user-generated live sources, separate to live camera or device screens. Version 5.12.0 introduces the new feature Improved Automatic Reconnection of Webcasts. All Webcaster Releases can be followed here, on our Blog.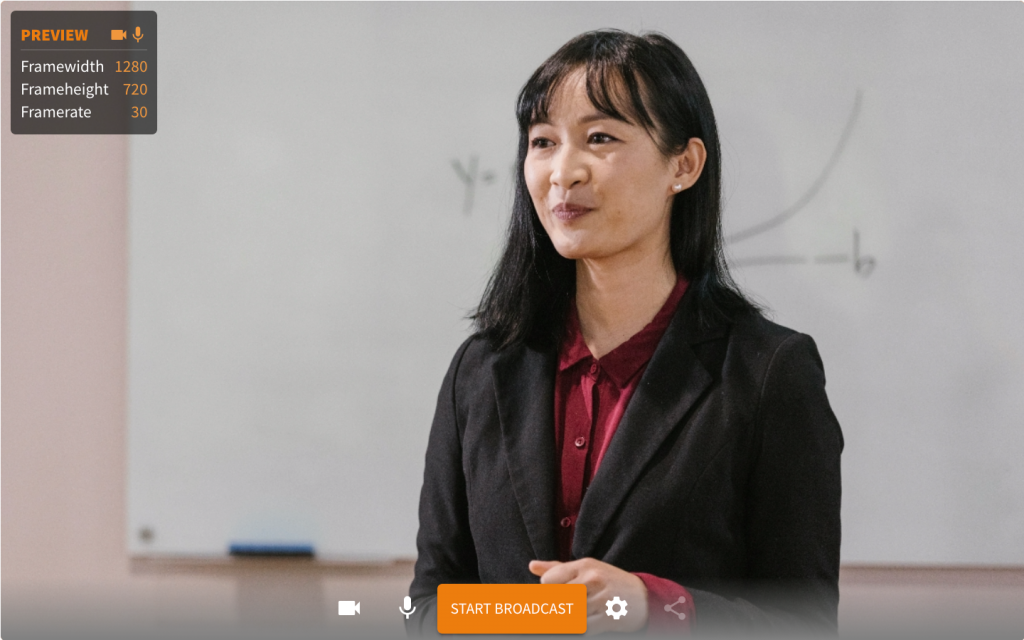 Screenshot of the Webcaster window Start Broadcast Modus.
All Webcaster related release updates are listed here; more general information can be found in our Webcaster documentation.
nanoMeet

Screenshot of  a nanoMeet room including custom branding.
2021 We expanded nanoStream Cloud by nanoMeet, a secure browser-based live video and collaboration tool to create, host and broadcast video meetings. It allows you to create branded video meeting rooms to engage and interact with your audience. Please see below a list of included features or refer to this page to read the introduction.
Live streaming integration into nanoStream Cloud
Host online video meetings embedded on your own web page
Web-browser based applications and web services
Invite participants with secure tokens
nanoMeet web API and code examples for easy white-label integration into custom branded environments
"Watch party": Watch a live stream together in a video meeting
Enable audience interaction with large audiences
nanoMeet can be tested as part of a free trial.
H5Live Player
In 2020 we made Adaptive Bitrate Playback happen, remember? You can experience the difference it makes for the player here. After last year's major milestone we improved the nanoStream Player's interface to become user focused and to provide a contemporary look and feel. All releases are published here, on our Blog. Screenshot of the H5Live Player and its new control bar appearance.
This list highlights recent changes:
Version 4.9.1 introduces new color scheme, improved design, additional functionalities e.g. player internal icons.

Features regarding branding have been simplified, but can also be
customized to a further extent.

Version 4.9.2 comes with improvements and fixes regarding player metrics, player height on mobile devices and fixes
The new version  4.10.4  implements an automatic recovery workflow for certain media errors that occur during playback.
Support for poster images has been added. Poster images can be applied via the config.style.poster parameter.
Cloud Dashboard
The nanoStream Cloud/Bintu Dashboard is a Stream Management Dashboard that helps improve the streaming workflow: you can create, customize and manage streams in an intuitive way. It mirrors all features and functions of the bintu API. Further information about our dashboard can be found here, in our documentation.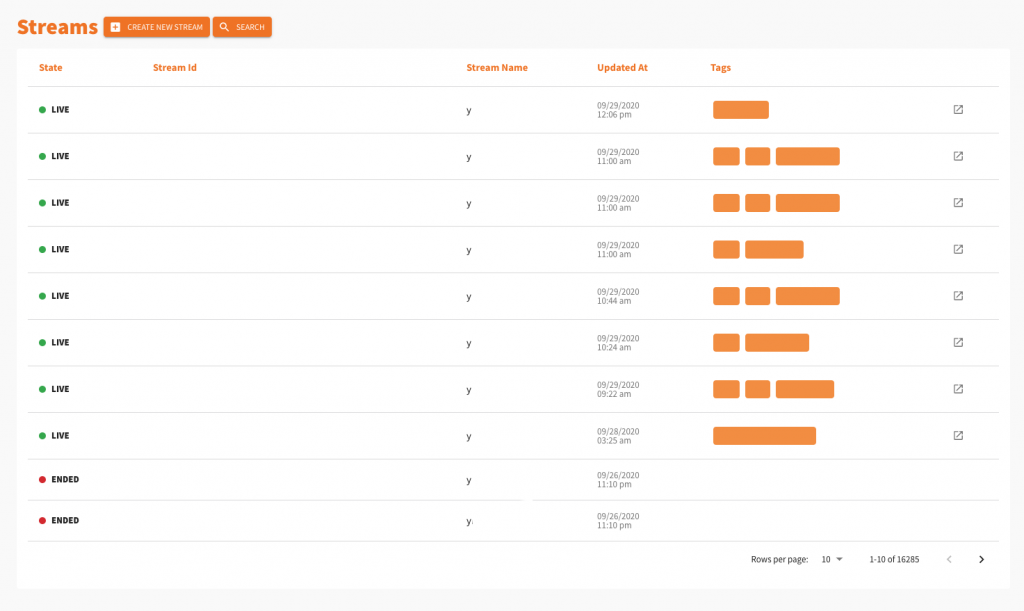 Screenshot of the stream overview that is part of the Cloud Dashboard.
This is a quick overview of its features:
Clear overview of the information relevant to your organization and streams
Intuitive way of creating and customizing streams
Depending on the chosen business agreement, there is a feature available
to create transcoded as well as secured streams
Playback is displayed immediately
Easy steps to playout (from Ingest to Playout)
Secure Streaming
nanoStream Cloud offers Secure Streaming. This is an optional feature for our clients. It can be used to ensure that the stream can only be accessed by authorized viewers. With STS, Secure Token Security, they can create a secure token which is only valid for a specific domain and/or for a specific stream. The fact that it allows access only temporarily because it is set to be valid for a specific time, makes it extra secure. Additional information regarding our secure playback can be found here.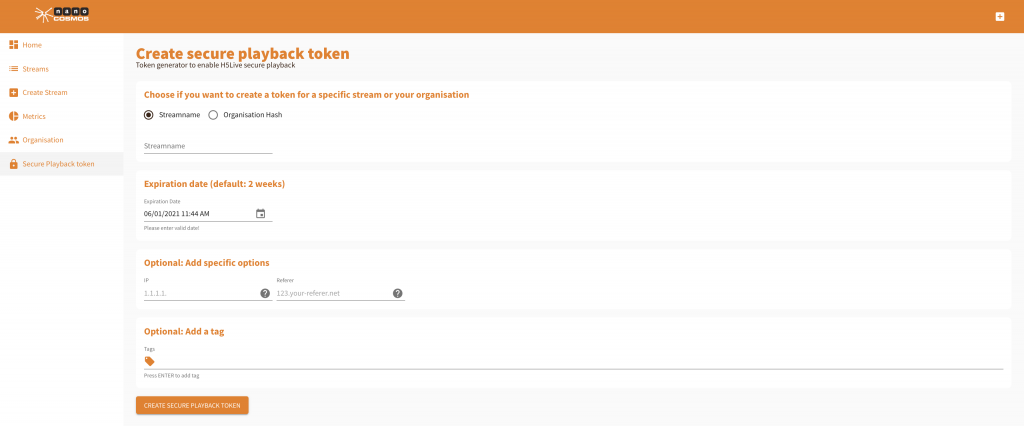 Screenshot of STS – Secure Token Service.
Live Transcoding
With Live Transcoding we provide the flexibility and compatibility needed to ensure end consumers have access to your stream, no matter where they are and no matter what device they use. How to enable Live Transcoding? Please read the description regarding Live Transcoding and how to set it up here.
Via our Bintu helper our customers can configure live transcoding settings, choose from a wide variety of different solutions
Once a stream has been created, it is displayed with all details, including colour settings and resolution.
Description about how to create using the bintu API
Analytics
nanoStream Cloud Analytics offers a great way to monitor and analyze the performance of your live streams. With version 2.10 we allow our clients to get even better over the quality of their live streaming service: Individual streams of Adaptive Bitrate Profiles (ABR) can be looked at and new specific details via the world map as well! If you would like to go into further details of nanoStream Analytics, please read our general documentation.

Screenshot of the Analytics world map to monitor latency.
This list provides an overview of the most important, newly added features:
NEW! Trouble shooting feature: Page and view to investigate stream issues based on ingest and playout client metrics
Our world map covering Europe, North America, etc. now offers a zoom-in function
H5Live ABR up and down switch count to world map
H5Live ABR viewers listed by profile/quality
Historical view of usage over the period of months
Bintu API
Bintu nanoStream Cloud's stream management dashboard and API. The dashboard and API can be reached at https://bintu.nanocosmos.de.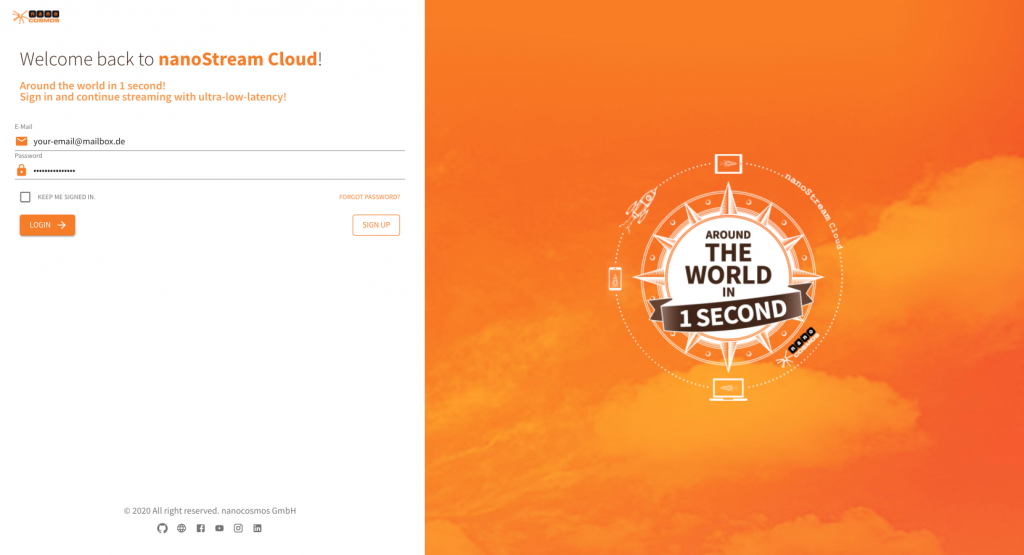 Screenshot of the nanoStream Cloud Dashboard to create, monitor and manage streams.
The latest bintu releases 1.10.6.0 and 1.10.7.0 cover new enhancements, here some major ones:
Access with JsonWebToken (JWT)
Deleting the organisation's users
Streams with the same content can be grouped and made available in different qualities
Metadata Option
Additional descriptive data is provided in regards to each stream. In nanoStream Cloud this is referred to as Metadata Option. We can add metadata to the regular streaming data to deliver certain specifications needed on the clients' side. Below is a list of key functions that are provided:
The RTMP protocol is used on the ingest-side to forward the stream to external locations.
Metadata Option allows you to control the timing of each stream.
Time codes on the broadcaster side can be used to synchronize the application.
Time codes that are added on the ingest server are used to support:

Use cases that rely on a certain timing of a stream.
Forwarding of a stream with metadata such as the actual date or time of day.
Metadata Option 'time code injection' to include a time code at a certain time (or of a certain time).

Metadata can also be used to localize identify latency issues.
VOD (Video on Demand)
Live Recording and VOD can be enabled for your account. If enabled, by default all incoming streams will be recorded for later playback. You can choose to either record the live stream or do a live stream without recording. Please refer to our documentation to get a comprehensive overview of VOD, part of nanoStream Cloud.
Support Options
Due to customer inquiries we have extended our support offering for enterprise customers:
9am-5pm

9am-9pm

24/7

Anywhere around the globe

✔
✔
✔

Same day customer reply for software / workflow questions




(except for weekends)

✔
✔
✔
Skype support group
✔
✔
✔

Days per week

5
7
7
nanoStream Cloud system down, reaction time

< 1 hour

< 1 hour

< 1 hour
---
Please reach out to our team for further informations or any questions: