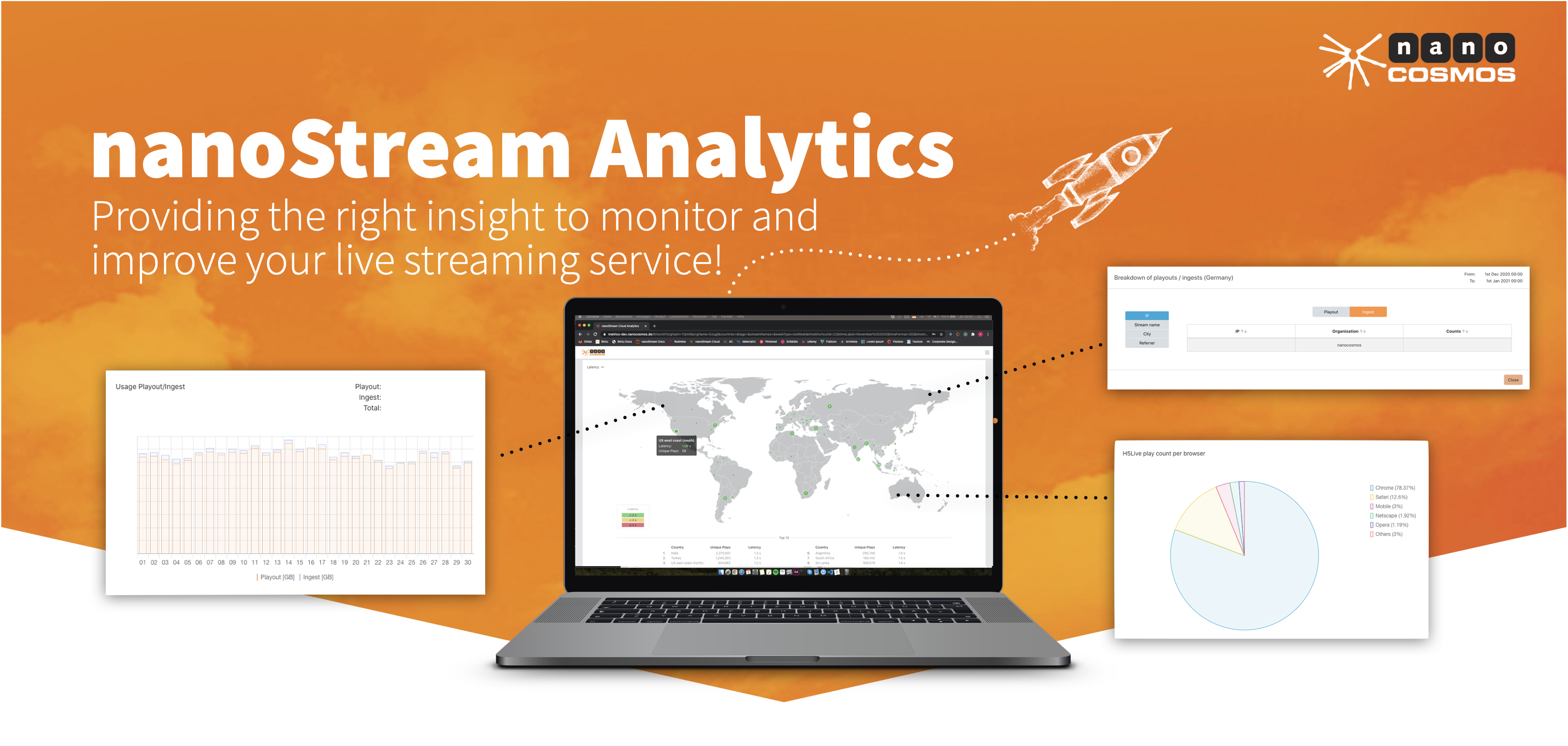 We have released nanoStream Analytics 2.10 with significant improvements. A new troubleshooting view, but also additional functionalities provide a better insight into streaming performance as well as improved control.
For those customers who are looking for additional insights into the quality of service, complete end-to-end from the ingest to the playback, we are also offering our Premium Analytics service. This collects additional metrics from our web clients, the nanoStream H5Live Player and nanoStream Webcaster.

The Premium Analytics requires a business upgrade – we would like to invite you to contact us for details at sales@nanocosmos.de.
Improvements/ Added Features
Troubleshooting view to investigate stream issues based on ingest and playout client metrics
Our world map covering Europe, North America, etc. now offers a zoom-in function
ABR up and down switch count to world map
ABR viewers by profile/quality
View of historical usage to see development of usage over months
Additional Webcaster error codes
nanoStream Cloud Analytics
https://metrics.nanocosmos.de/
Use your Bintu credentials to sign in or directly access from within the nanoStream Cloud Dashboard.
Documentation
https://docs.nanocosmos.de/docs/cloud/analytics/
---
Additional News about nanoStream Cloud
We have launched the new nanoStream Cloud Dashboard.
Version 2.1 is now available for you, completely redesigned to cover everything you are used to – and even more.
Create and manage your ultra-low latency live streams on a new level, for interactive applications with audience engagement.
Go live around the world in 1 second