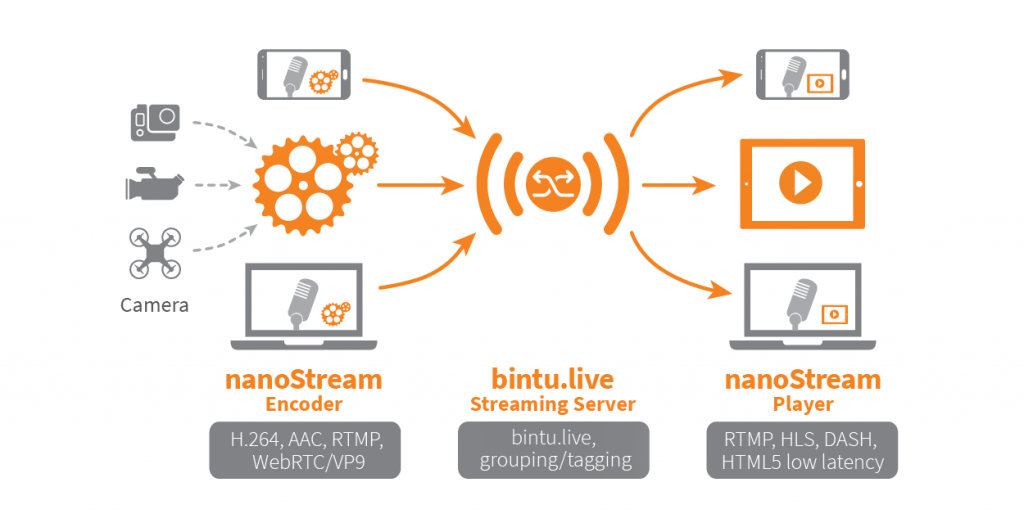 Go Live Instantly with the nanoStream bintu.live Streaming Server
You only need our nanoStream software and bintu.live online account to get started with immediate live streaming!
The stream management service platform can easily create, start, group and tag live streams. Scalability, streaming, and URLs are all part of the service.
Create any number of live streams for user-generated content applications. No need to install your own streaming servers, get auto-scalability and additional features to integrate into your own branded streaming solution.
Deploy your solution to customers with your own brand by using our white label platform for instant streaming with no setup delays.
The bintu.live streaming services are optimized for low latency streaming, and can still be used for distribution to large audiences. Our services are deployed worldwide, with server locations in Europe, North America, East Asia and Australia. Use our CDN services for large scale distribution to audiences worldwide.
Features and benefits
Very easy to setup and deploy
Immediate, instant live streaming without complicated setup delays
Complete, true cross-platform software for live encoding, streaming and playback
Available for iOS, Android, Windows, MacOS and Browser platfoms, including WebRTC
Integrates with existing applications
White label platform and SDK
REST API for any web, mobile or desktop API
High-quality video encoding and streaming based on long-year expertise
Very stable in low bandwidth and unstable network situations
More Information