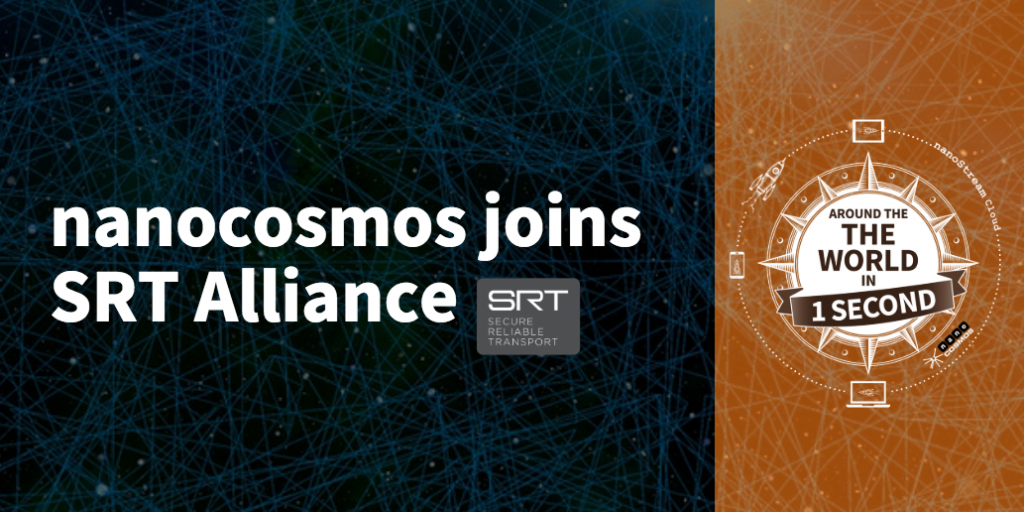 nanocosmos Joins SRT Alliance for High Quality, Low Latency Video Streaming Over the Internet
Combining H5Live and SRT, nanocosmos focuses on Interactive Live Streaming with ultra-low latency at IBC 2018
Berlin, Germany – nanocosmos, featuring their core products nanoStream Cloud and H5Live Player for interactive live streaming with ultra-low latency, is pleased to announce that they have joined the SRT Alliance, as part of their overall strategy to enable high quality interactive live streaming experiences for business clients on a global scale.
In business for more than twenty years, nanocosmos has specialized in low latency use cases that require direct interaction with the audience. Their core products, nanoStream Cloud and H5Live Player, are a market reference for interactive live streaming, achieving a latency as low as one second around the world at scale. "SRT will be a great value-add to our low-latency workflow, where we use our unique H5Live technology for delivery and playback on all HTML5 browsers, including Safari on iOS," said Oliver Lietz, nanocosmos CEO. "Combining SRT and H5Live is one more step that we make towards high quality interactive live streaming. We are very happy to join this alliance and to push further the development and delivery of low latency technologies for interactive live streaming use cases".
"With the SRT Alliance, nanocosmos is joining the fastest growing video streaming movement the open source community has ever known," said Sylvio Jelovcich, Vice President of Global Alliances, Haivision. "As the SRT protocol is being actively implemented by some of the world's biggest broadcast streaming workflows and with more than twenty SRT demonstrations at IBC alone, SRT is clearly becoming the defacto standard for low latency internet streaming."
nanocosmos will be exhibiting at the IBC Show in Amsterdam, 14-18 September, in Stand 14.B17. At IBC, Oliver Lietz will also join the roundtable discussion about low latency. The nanocosmos team will be available to discuss new business opportunities using SRT and H5Live for ultra-low latency live streaming with nanoStream Cloud. To schedule a meeting with nanocosmos at IBC, click here.  
About the SRT Open Source Project & SRT Alliance
SRT is an open source video transport protocol and technology stack, developed and pioneered by Haivision, that optimizes streaming performance across unpredictable networks with secure streams and easy firewall traversal, bringing the best quality live video over the worst networks. The SRT Open Source Project, supported by the SRT Alliance, is a collaborative community of industry leaders and developers striving to achieve lower latency internet video transport by continuously improving open-source SRT. For more information about the project and how to join the SRT Alliance, visit srtalliance.org.
 About nanocosmos
Developed to enable true interactive live streaming, nanocosmos' flagship products are nanoStream Cloud and H5Live Player. With many years of experience, Berlin-based nanocosmos has created the unique H5Live technology for plugin-free ultra-low latency delivery and playback on any device and HTML5 browsers. H5Live is part of nanoStream Cloud, a scalable live streaming solution and ULL CDN with a global footprint, designed for any audience size and for applications where every second counts. Powerful Live Encoding and Broadcast is possible with your existing encoders or our nanoStream Apps and SDKs, or even completely plugin-free from the browser with nanoStream WebRTC.live. For more information, visit www.nanocosmos.de.