Ultra-low latency live streaming in the browser: nanoStream Cloud as ULL-CDN
A short background
What is a CDN?
Content Delivery Networks (CDNs) are everywhere. Whether you know it or not, when you are shopping online, watching a Youtube video or checking social media you are being supported by a CDN.
Adopted in businesses worldwide, CDNs were developed to improve the user experience when loading a webpage and receiving the content on your screen. The principle behind it is quite simple: minimize the geographical distance between you and the website's hosting server, balancing load and scale for multiple requests, improving loading times, rendering speed, network latency and performance.
CDNs are usually based on origin and edge servers. The origin or ingest servers pick up the source content, the edge or playout servers are connected to the viewer audience. CDNs offer multiple Points of Presence (PoPs) in different areas and world regions to cover geolocated access and load balancing.
What is latency?
Latency is the time difference in seconds or milliseconds between the times an event is created and delivered to the audience. End-to-end latency for live streaming is counted "glass-to-glass", from the camera to the viewer. The startup delay or load time is different.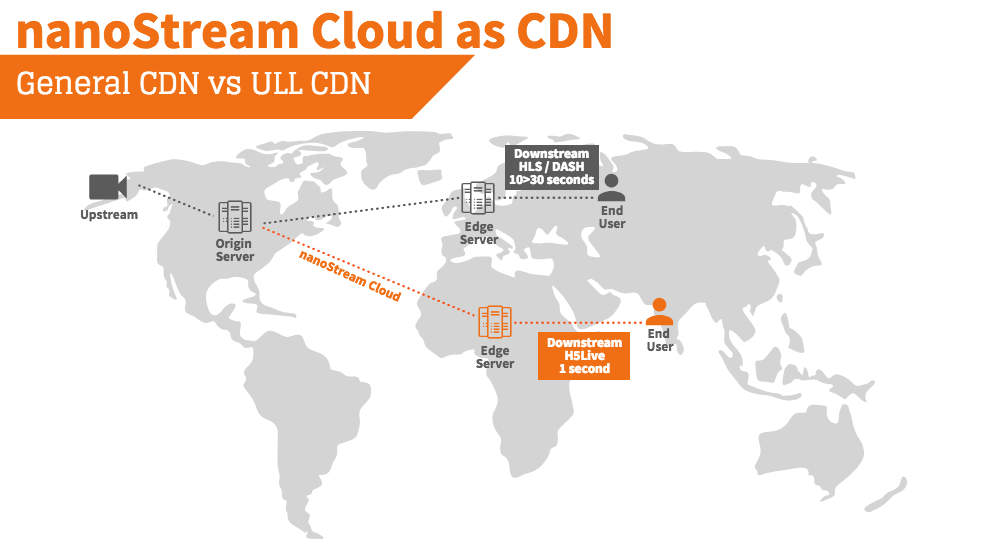 CDNs used for Live Video Streaming: What about latency?
CDNs were designed to minimise network latency worldwide, but this is not the main issue for live streaming. The major challenge in Live Streaming is the additional latency of the streaming protocol in use. This latency is basically independent from the underlying network infrastructure.  Due to the nature of current industry-standard protocols the high latency hurdle is high. HTTP-based protocols HLS and DASH are using long segments of video/audio chunks of several seconds which create long latency values. On top of the streaming protocol, additional buffering might be added by video processing loops inside the workflow, like transcoding or other conversion processes.
Latency values: What numbers are we talking about?
CDN network latency is generally low compared to the streaming protocol latency. Even for worldwide distribution, the IP network itself might induce a latency of around 1 second only. Video processing might add 1-2 seconds. However, the latency added by the streaming protocols HLS and DASH results in values of around 30-60 seconds end-to-end. Promoting scalable interactive live streaming experiences to viewers around the world needs different approaches, which requires complete control of the whole workflow, from the camera to the player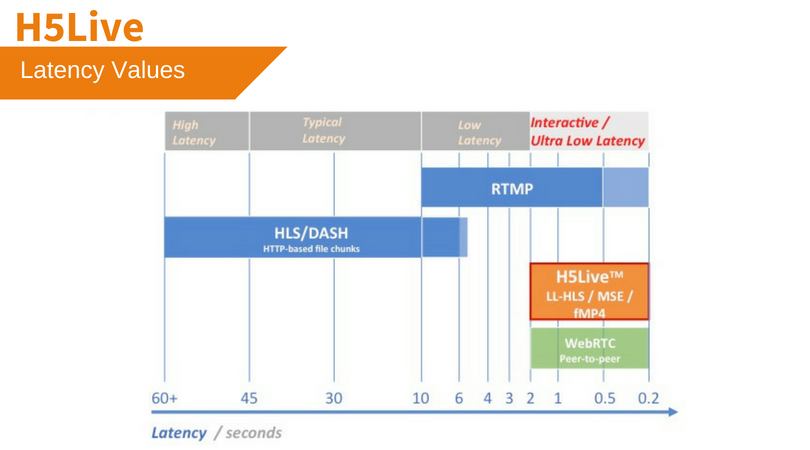 Low-latency Live Streaming CDN
Live Streaming with Ultra-low latency requires more than a worldwide origin-edge architecture, but unique streaming protocols and complete control end-to-end / glass-to-glass of the audio/video workflow. This includes seamless delivery and playback on all browsers and platforms.
A Live Streaming CDN that offers ultra-low latency brings together innovative technology to beat the protocol latency during delivery and playback.
nanoStream Cloud as ULL-CDN
nanoStream Cloud is an industry reference when the topic is ultra-low-latency Live Streaming. nanoStream Cloud is basically an ultra-low-latency live streaming CDN, which provides not only the worldwide architecture but also the right streaming protocols and quality of servers to keep end-to-end latency down. You can ingest your live stream with existing live encoding technology based on RTMP, or plugin-free from the browser. Delivery and playback is done with the integrated H5Live player which is running on all HTML5 browsers.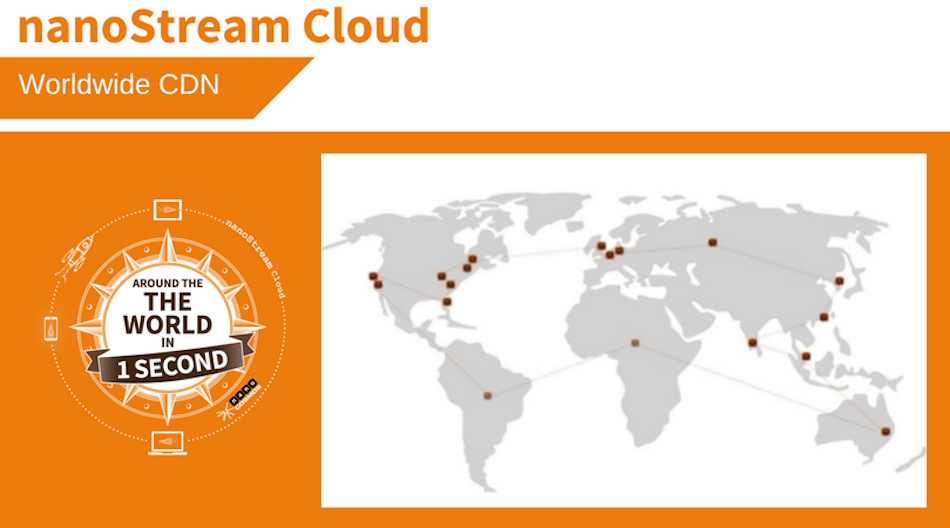 What makes nanoStream Cloud as CDN unique
Different than other Live Streaming CDNs, nanoStream Cloud is a combination of the origin edge architecture and an unique technology for ultra-low-latency playback:  H5Live.
H5Live Player is a ground-breaking technology for ultra-low-latency Live Streaming on any device and HTML5 browsers, including Safari on iOS.
nanoStream Cloud is the only Live Streaming platform to offer such an integration. By combining multiple POP worldwide and H5Live Player, nanoStream Cloud ensures real ultra-low latency without plugin limitations.
Besides beating the latency hurdle on all HTML5 browsers, nanoStream Cloud with the integrated H5Live Player brings other advantages. Due to its global footprint and scalability capacity, nanoStream Cloud can take your live streams to large audiences worldwide.
nanoStream Cloud is a bullet-proof technology for businesses that want interactive live streams, engaging numerous viewers around the world.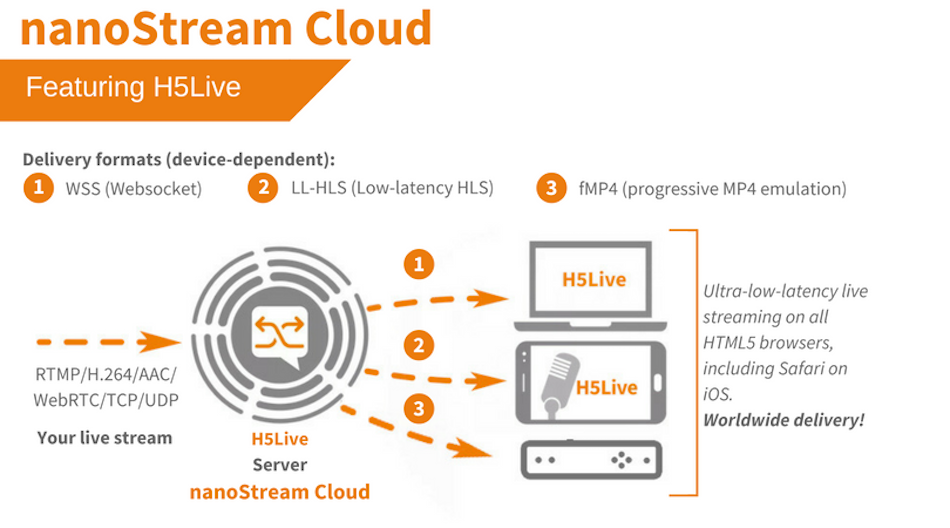 Live Streaming Use Cases
Interactive use cases are the most affected by latency issues. Every second counts for them! Some good examples are Webcasts, Online auctions, iGaming, Trivia TV Shows. Besides the latency hurdle, these kind of use cases also have the challenges of interactivity, scalability and global delivery to large audiences. nanoStream Cloud with the integrated H5Live Player is a complete solutions for such use cases, bringing together ultra-low latency as well as scalability and delivery to large audiences worldwide on any device.
Integrating nanoStream Cloud as CDN
It is super easy to use nanoStream Cloud as your ultra-low-latency CDN. You can use any live encoder software or hardware, like OBS and add our nanoStream Cloud to your existing workflow. You can push your live streams to nanoStream Cloud and distribute it worldwide, while nanoStream H5Live Player will take care of the playback on any device, plugin-free.
nanoStream Cloud can also easily be turned into an end-to-end solution by adding our live encoder Add-ons nanoStream Webcaster or nanoStream Apps and SDKs.
You can even integrate with existing video meeting solutions like Zoom or Jitsi!
Are you ready to go live around the world in 1 second with nanoStream Cloud as CDN?