WebRTC.live Demo Instructions
Stream live and in low latency directly from your browser to a large audience with the nanoStream WebRTC.live client-server solution.


The WebRTC broadcast client connects to the nanoStream WebRTC.live server and converts the WebRTC.live stream to RTMP for low latency distribution. The stream is played back through the nanoStream H5Live Player, independently from WebRTC, on any browser (including Safari on iOS).
1.    Open the web page nanocosmos.de/webrtc to try the WebRTC.live demo.
2.    Click on the image in the WebRTC.live window to start the demo. The browser will ask you if your webcam and audio may be shared, 
please ensure the correct audio input is chosen (e.g. if a separate headset is connected).
3.    Your camera picture will appear in the preview window.
Click the orange button to start broadcasting. To stop the broadcast, click the same button again.
4.    You will have to enter your email address to get access to the full demo. Don't worry – we will never share your address with third parties!
5.    The playback of the broadcast opens in a new window below. The player is our HTML5-based plugin-free H5Live Player.
The broadcasting stream is sent to our WebRTC.live server and translated into H5Live. This low latency stream format can be delivered to all browser clients (incl. Safari on iOS10).
6.    Click Open External Player below the H5Live Player window to see the full H5Live Player demo. To test the low latency live playback on multiple devices, copy the URL to your iOS 10 device or any other device.
Features of WebRTC.live and H5Live

* Live Encoding and Broadcast with WebRTC.live
– Plugin-free browser-based live encoding of your webcam video stream.
– Stream to the nanoStream Cloud or any other RTMP Server.
– Supported browsers: Chrome and Firefox on desktop or Android platforms.
* Live Playback with the H5Live Player
– Plugin-free browser-based playback on any browser (incl. iOS).
– Ultra-Low latency of around 1 second end-to-end.
– Supported browsers: all modern browsers and devices, including mobile (Android and Safari on iOS10).
WebRTC.live and H5Live are available in combination with the nanoStream Cloud as a service or can be installed on-premise to integrate with your existing infrastructure.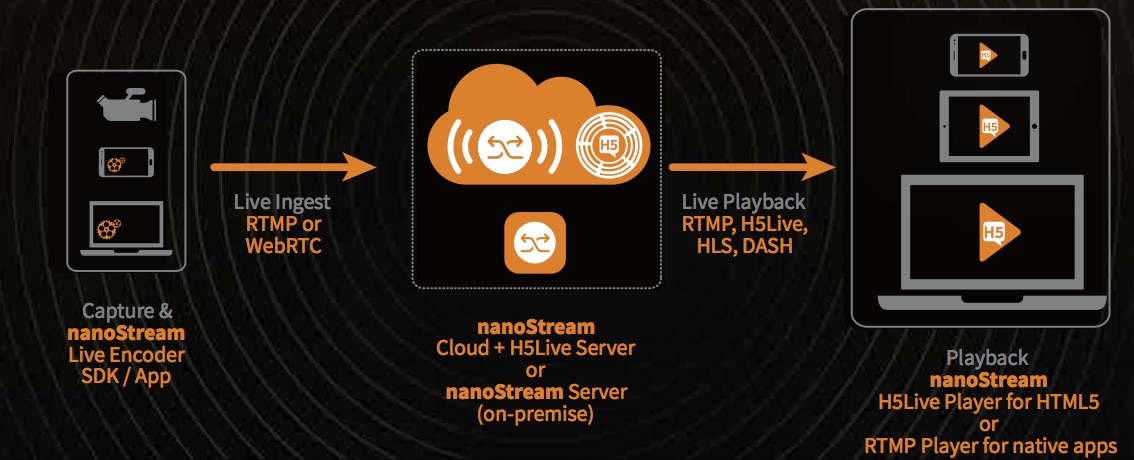 Contact us today for a price quote!