Three Steps to Unlock The Full Potential of Ultra-low Latency Streaming
This is our first video from a tutorial series: How To Set Up A Low Latency Stream goes straight to the point of stream management with nanoStream Cloud. Let us take one step back and recap first why low latency is so important nowadays and which business applications particularly benefit from it. Beyond setting up a stream and to conquer challenges respectively, here are three key steps to unlock the full potential of ultra-low latency streaming!
Step 1 – Define Your Perspective on Streaming
Ultra-low latency streaming – live streaming with such little delay that smooth interaction between viewer and presented content can take place – is an amazing tool to engage your audience anytime, anywhere.

To understand what ultra-low latency streaming is and what the commitment entails to successfully run it, everything starts with the specific scenario and determines the importance of latency accordingly. Streaming that requires ultra-low latency aims to reach the audience to interact with the content. These scenarios depend on minimal latency – the time it takes for streamed content to be delivered from the source or camera to the viewer ("glass to glass").

Regular streaming without interaction on the other hand can be done with a 30-60 second delay. On the viewers' end it is easy to differentiate: While regular streaming is there to be watched with a "lean back experience", interactive streams are consumed including active involvement – "lean forward experience" so to say. Be it for an online game, bet, poll, auction: Smooth interaction can obviously only take place with minimal delay, or in other words, as close as possible to real-time for virtual interaction to mimic a physical event. 
What Keeps You So Long? About Latency Dependencies
While the latency depends on several components which are part of the streaming workflow, the chosen streaming protocol (RTMP/SRT/WEBRTC) can be considered a stand alone factor with a huge impact on it.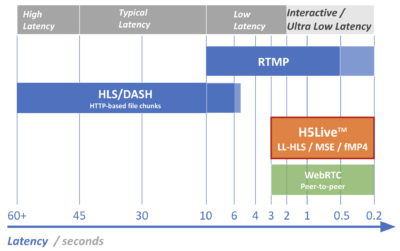 Our nanoStream Cloud infographic visualizes the live streaming workflow where data needs to pass from the ingest to the Content Delivery Network to be eventually delivered to the viewer's player- this may provide an idea about the interdependencies of affiliated factors.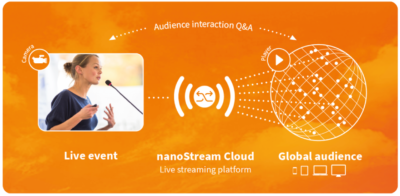 Market Demands: What Goes Into The Mix?
Next to monetized interactive live streaming models for iGaming, betting, live auction content where half a second can decide whether you achieve your goals or not, there is now a broad range of stage events which are streamed with interactive live streaming. Here audience engagement depends on ultra-low latency to receive feedback in form of chats, polls and votes be it for entertainment purposes or to establish successful bidirectional business communication. Critical for any set-up is knowing the priorities and objectives.
What factors come into play when we look at a selection of different scenarios of 'interactive live streaming' and the importance of ultra-low latency next to other requirements?
Auction: Latency being the most important factor but in combination with other number 1 requirements like a player interface that can be branded ("white label"). 

iGaming, betting: Latency of high importance in combination of various factors like robust 24/7 platform, accessibility for any device, anywhere in the world, access to Analytics to monitor performance, Stream Security. 

Interactive stage and hybrid events: Latency important depending on the type of interaction. Audience size is oftentimes critical as well as browser-based access for international reach.

E-commerce: Latency becomes a key factor to establish a personalized shopping experience while maximizing the audience size and reach can boost sales.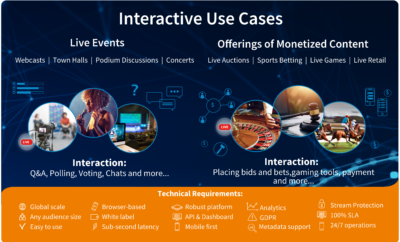 Step 2 – Make The Most Of Your Interactive Use Case
nanocosmos follows the ultimate goal to enable clients to successfully engage their audience with interactive live streaming. Keeping the live streaming workflow in mind, we believe that an integrated approach providing end-to-end control is key to get there. How? nanoStream Cloud clients receive the live streaming workflow B2B as a platform, Content Delivery Network and an interface to work with – the Dashboard which we saw in the tutorial. It is sort of the home base of nanoStream Cloud. By the way, it mirrors all features and functions of the API bintu. It offers clients manage, control and optimize the technical side of their interactive live streams with ease. Check out our Dashboard Documentation.
Other Dashboard related features are for instance Custom Tags – a helpful tool to organize streams and save time. How? They can be used to search for specific streams in your stream list. Check out our nanoStream Cloud Tags Documentation.
Heart of interactive streaming is the H5Live Player: Simple to embed, and ideal to stream worldwide instantly on any device. Did you know XY Technical Features are covered in our documentation nanoStream Player: H5Live Player.
Step 3 – Tie In All Features To Tackle The Bigger Picture
Streaming with ultra-low latency successfully does not end here. To stay competitive with ultra-low latency streaming be we believe a 360 degree approach is what takes it up with the whole live streaming workflow. Taking affiliated factors into consideration is how to achieve the best Quality of Service and Quality of Experience:
To understand the bigger picture of the live streaming workflow with its challenges and necessity for end-to-end control we recommend this webinar: Streaming Media Latency How low should you go.
Please reach out to our team for further information or any questions: