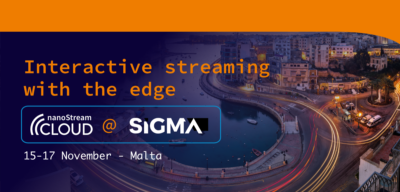 SIGMA EUROPE – THE WORLD'S GAMING FESTIVAL
---
15 – 17 NOVEMBER 2022 | MALTA, MFCC (NORTH GATE) |  #ST112
NANOSTREAM CLOUD 2022 at Sigma Malta

---
nanocosmos is excited to showcase the new generation of nanoStream Cloud with newly added features for interactive live streaming at SIGMA EUROPE with a focus on the product's Quality of Service and Quality of Experience to empower platform operators to deliver state of the art streaming experiences for their customers.
The interactive live streaming solution nanoStream Cloud addresses major requirements like  accessibility via any device, browser and network with sub-second latency. By serving a wider range of interactive use cases with a coverage of increased requirements, the New Generation of nanoStream Cloud allows businesses to run streaming in line with their business goals delivering the highest Quality of Service and Quality of Experience:
nanoStream Player to

achieve and maintain sub-second latency

, anywhere in the world, based on our unique Adaptive Bitrate technology

Advanced analytics with new troubleshooting tools e.g. the new Zooming tool

Secure streaming with active protection against misuse

Expanded global network (CDN) covering even more areas than before

New ingest protocols, like SRT

Upgraded Webcaster for browser-based live encoding

New nanoMeet as an add-on for sharing web conferences with large audiences

100% reliability & 100% uptime, 24/7 operations
ADDITIONAL INFORMATION
---
nanocosmos offers nanoStream Cloud, the preferred choice for many interactive use cases when it comes to ultra-low latency live streaming. We invite you to read the linked articles below if you would like to dive a bit deeper into the topic of interactive live streaming.
NANOCOSMOS RAMPS UP INTERACTIVE LIVE STREAMING AT SIGMA MALTA
nanocosmos presents interactive livestreaming platform with updates for improved QoS & QoE
Read more 
Streaming Media Award
Streaming Media Innovation Award 2022 – nanoStream Cloud won
Read more