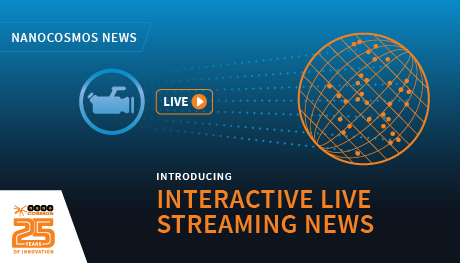 Press Release

Berlin, Germany, on July 4, 2023
nanocosmos at Sigma Asia: Expanded reach for nanoStream Cloud to deliver high-quality interactive streaming of live games and bets in Asia
nanocosmos, a leading real-time video streaming provider, proudly celebrates its 25th anniversary with a head start for the growing live gaming and betting market in Asia. Recognizing the surging demand for high-quality, secure, and accessible live games in Asia, nanocosmos has unveiled a range of new features on its unique platform, nanoStream Cloud. New features are specifically tailored to meet the region's requirements for gaming platform providers: Local support, new server locations and improved technology for better accessibility in remote regions have been added for increased coverage in Asia. Moreover, nanocosmos has implemented additional security features to safeguard live streams with ease and effectiveness, aiming at the highest possible quality of experience for the end users.
In addition, providers of live games and bets in Asia can benefit from nanoStream Cloud's recent validations from the professional video broadcast industry: nanoStream Cloud received the "SRT Plugged" Badge for the successful implementation and test of the SRT protocol by more than 15 independent vendors of the video industry. This targets optimized stream quality and stability for global distribution for all areas including bad network situations, and it can be used next to other protocols like WHIP and RTMP.
Addressing the growing demand for stream protection and reliable service, nanocosmos has introduced nanoStream Guardian, an innovative solution that extends stream protection capabilities. In addition to simplified token-based access (JWT) and stream protection via webhooks, clients can now shield streams from unauthorized access through a straightforward principle: monitor activities, assess suspicious behavior, and proactively block identified threats.
nanocosmos offers an end-to-end solution  designed to empower platform providers and elevate their business with high-quality streaming. Leveraging the integrated features dedicated to Quality of Service and Quality of Experience and based on ultra-low latency, providers can enjoy 100% uptime ensured by a robust and reliable Content Delivery Network (CDN), browser-based player, advanced analytics, and round-the-clock service and stream protection.
Chris Strijbosch, SVP business development, says "We are proudly bringing 25 years of expertise to the growing iGaming and betting markets with a client-focussed approach. Our real-time streaming platform covers key requirements such as secure streaming, adaptive bitrate for seamless experience even in remote areas and dedicated local support in Chinese and English. This is an expansion that underlines our commitment to providing cutting-edge interactive live streaming."
To showcase their unique real-time streaming platform and API, nanoStream Cloud, with its enhanced features, nanocosmos will be present at booth BR15 during Sigma Asia. Attendees will have the opportunity to experience firsthand how nanocosmos is revolutionizing live video streaming for the Asian market.
About nanocosmos
nanocosmos is a leading provider of real-time video streaming solutions, empowering businesses across various industries to deliver high-quality and secure live video experiences to their audiences worldwide. With a 25-year history of innovation, nanocosmos continues to lead the way in interactive live streaming, particularly in the gaming and betting sectors. The company's flagship product, nanoStream Cloud, offers a comprehensive set of features that cater to the specific requirements of gaming platform providers, ensuring seamless playback on any browser and device, anytime, anywhere.