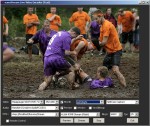 The Easiest and Fastest Way to Create High Quality Internet Video Streaming!
For Video Conferencing, Flash Video Streaming, WebTV, IPTV, 3D Stereoscopic Video

nanoStream Live Video Encoder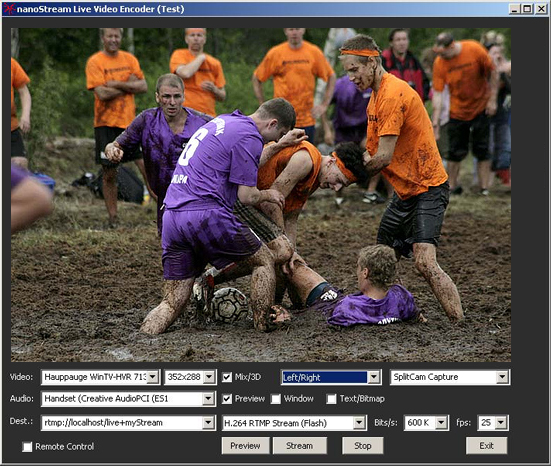 is a video capture and encoding software for streaming live video and audio to internet based media servers and other network clients. nanoStream is compatible to latest generation internet video encoding standards and supports Flash and iPod compatible H.264 encoding modes, from low resolution mobile video up to Full HD highest quality video streaming. Several Extensions are available, for 3d stereoscopic video encoding and streaming from multiple camera views, and additional coding formats; MPEG-2, WindowsMedia and VP8.
nanoStream Live Video Encoder supports internet broadcast scenarios such as live entertainment, sports, concerts, news, educational content. nanoStream is your best choice to supply plugins if you are planning to create internet streaming solutions for WebTV, IPTV, video conferencing, VOD. Working perfectly together with internet streaming servers like Wowza Media Server and Flash Media Server, streaming to Mobile devices like iPhone, Silverlight and other playback clients is possible. If you want the best quality internet streaming solution, nanocosmos is your partner.
The Encoder is based on applications and plugins and is also available as a ready-to-use installation kit. The modular architecture based on DirectShow is available as a Software Developer Kit (SDK) for integrating live video encoding and streaming functionality into custom applications.  The Plugins are compatible to most browser architectures, including Internet Explorer, Firefox, Safari and Chrome (currently Windows only).
Live Video Encoding for H.264 / Flash, MPEG-2 HD and WMV
All components are optimized for high performance and are available for Windows.
Features and Benefits
Highest Video Quality using nanocosmos Broadcast Technology (H.264, MPEG, HD. VP8 and more)
Open Architecture, support for several codec and streaming formats (RTMP, RTSP, HTML5)
Plugin Architecture based on modular DirectShow filters and plugins for Internet Explorer, Firefox
Web-enabled: Javascript interface for simple integration into internet browser architectures
streaming protocol compatible to Flash Media Server / Wowza Media Server (RTMP)
high quality mobile streaming to iPhone, Silverlight and other players possible
2D and 3D stereoscopic live content and video material
Special support for high quality HDMI input devices (e.g. Blackmagic Decklink)
Available as SDK, Plugins and Application for Professional Video Users and Developers.
nanoStream Live Video Encoder Setup  –  2D or 3D

Compatibility:
Full H.264 / AVC, AAC and MP4 support, compatible to iPhone, iPod and HDTV
RTMP-and RTSP Compatible to Wowza and Flash Media Server
Compatible to several playback clients
Several extensions available for 3D/Stereoscopic streaming, MPEG2, RTSP, VP8 and more
Software requirements:
Microsoft® Windows® XP/SP2, Vista or Windows 7 (32 bit or 64 bit), 2GB RAM, 1024×768 screen
Hardware requirements:
Intel Core2 Duo, recommended for HD capture: Intel Core i7 or Xeon
Microsoft DirectShow compatible video device (HD capture supported with Blackmagic Decklink)
For 3D Playback: 3D-video compatible display (polarisation display, NVidia 3D)
Supported Browsers: Internet Explorer, Firefox, Safari and Chrome for Windows XP, Windows 7
SDK and plugin compatibility: DirectShow, VisualC/C++, .NET, Active-X, Browser Plugins, and more
Additional services: integration support, consulting and Custom Applications
With our long-term expertise in video format conversion and custom development for professional video customers, we are able to provide high quality, high performance custom applications, consulting and support services.
Our professional integration and customization services help you getting your video applications to market quickly.