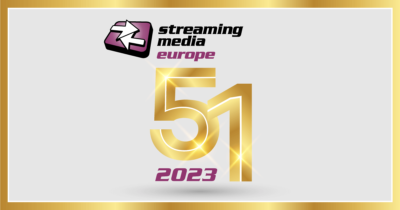 Streaming Media Europe 51 is back to honor top tech companies and we are thrilled that we have made it again! With so many changes in the streaming industry over the last years, we are especially proud that we have continued to stay at the top as 2023 is our 25th anniversary. 
nanocosmos started small in 1998 with compressing video formats during a time when YouTube and smartphones were nowhere in sight and connection speed was still dependent on Modem and ISDN at 64 kBits/s. 
The shift towards B2B 4K real- time streaming with nanoStream Cloud from start to finish now helps companies and projects to engage their viewers with interactive content anywhere in the world, around the clock.
As interactive live streaming capabilities have opened up a wide range of possibilities for businesses in various industries, including sports, gaming, betting, and auctions, we are excited for the future. We look forward to enabling more businesses to provide innovative, interactive, and engaging experiences for their customers, ultimately driving success and growth in their respective industries.
ThrowbacK TIME: NANOCOSMOS' JOURNEY OVER THE LAST 25 YEARS
WEBINAR: The Future of Interactive Streaming I Streaming Media Connect 2023
---

Please reach out to our team for further information or any questions: