Empowering businesses to secure their streams:
How you can use analytics to protect your streams proactively
In today's digital landscape, protecting your content from malicious activities and illegal stream replication has become a top priority for companies. However, it can be a daunting challenge with numerous variables to consider. That's why we have launched nanoStream Guardian.
nanoStream Guardian is a new service integrated into the nanoStream Cloud Analytics dashboard where it provides an overview of suspicious activities –  empowering you to block specific IP addresses, referrers, and even entire CIDR masks from accessing your streams.
By leveraging nanoStream Guardian, you can effectively prevent unauthorized access and illegal replication of your streams, ensuring that only legitimate viewers can watch your content. This robust stream security measure offers advanced safety features and additional controls which lead to consistent streaming quality and increased reliability.
With nanoStream Guardian, you can proactively mitigate potential risks, such as:
Unauthorized playbacks can be shared or monetized independently, resulting in lost revenue for the original content owner. Moreover unauthorised playback of your streams can lead to a small increase in data consumption.

Content owners and streaming service providers invest significant resources in creating and delivering high-quality content. However, unauthorized access to streams can result in tampering with the content, such as altering original content, which can damage your company's reputation.

Streams may contain sensitive information, such as personal data, financial information, or proprietary content, and may also be restricted from being played back in certain regions or countries. Unauthorized access to these streams can lead to data breaches and legal liabilities, resulting in financial losses due to legal fines, compensation claims, and damage to your company's reputation.
How to use nanoStream Guardian to protect your content?
nanoStream Guardian is designed to provide a seamless and user-friendly experience to protect your valuable content within nanoStream Cloud, our real-time streaming platform. With two convenient options for usage, via the Analytics Dashboard and API, you can easily access the data you need to quickly observe any suspicious activities and take action.
If you still don't have a nanoStream Cloud account, you can easily get a free trial here and test the new nanoStream Guardian at any time.
nanoStream Guardian within Analytics Dashboard
nanoStream Guardian is available within your usual metrics dashboard environment. You can get started by simply investigating your users' behavior in a specific time range.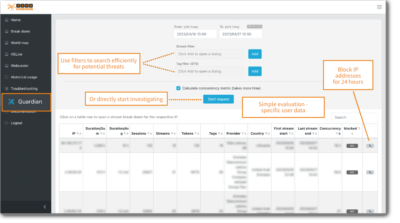 We offer a range of information that you can use to verify potentially suspicious streaming activity, including stream duration, concurrency, and country. By having access to this data, you can quickly detect and note any misuse, allowing you to actively block the IP or Referrer associated with the activity.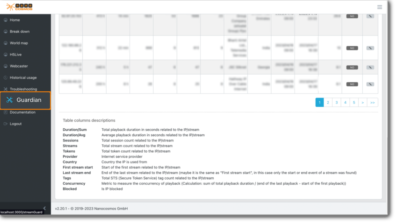 Right below the results of your query, you will find more details about each field displayed
By selecting a specific user IP address from the table column, you can gain deeper insights into how that particular user interacts with your streams. This allows you to obtain a more comprehensive understanding of their streaming behavior and patterns.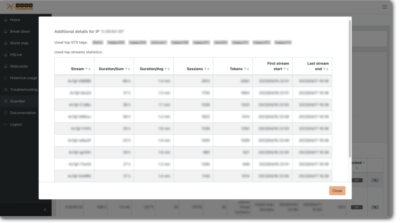 nanoStream Guardian API
If you require  additional  control over the feature or simply want to integrate into your existing workflow, you may use the nanoStream Guardian API.
It is public, can be used programmatically and is accessible via the following URL: https://guardian.nanostream.cloud.

A proper documentation of the endpoints is available at https://guardian.nanostream.cloud/docs.
The nanoStream Analytics 2.20.1 Release, which includes nanoStream Guardian, can be found here.
Start using nanoStream Guardian
If you already have a nanoStream Cloud account, you can easily login into your Analytics dashboard and start exploring this new service! Just to go to http://metrics.nanocosmos.de  to get started.
In case you still don't have an account, you can get a 7 days free trial here and start streaming in real-time around the world!
Have any questions about nanoStream Guardian or nanoStream Cloud? Reach out to our team.
TUTORIAL: START STREAMING IN 4K in real-time WITH NANOSTREAM CLOUD AND OSPREY
Read more 
We are celebrating our 25th anniversary: learn more about our history
---