The nanocosmos team will be at Streaming Media East in New York on May 16th and 17th. We would love to meet you and chat about ultra-low latency live streaming for interactive applications!
Find us in the International Zone, or schedule an appointment with our team via email (sales@nanocosmos.de), phone (+49 175 5667641), or Skype (nanocosmos).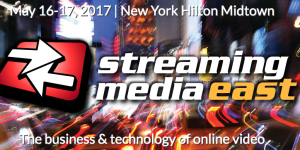 Interested in learning how you can reach your audience in interactive live streaming application with ultra-low latency? Do not miss nanocosmos CEO Oliver Lietz'  talk at SM East's Discovery Track:
Interactive Live Streaming with Ultra-Low-Latency Are on the Rise: How to Reach Your Audience on Any Platform
May 17th – 12:10 p.m. – 12:30 p.m., Discovery Track @ Streaming Media East
How can I build an end-to-end interactive live streaming solution that is lightweight, cost-effective, easy to scale and robust? Creating low latency live streaming applications for apps and plugin-free HTML5 is hard. Learn how to combine WebRTC, RTMP and low-latency HLS with nanoStream's H5Live player to create your own ultra-low latency interactive solution for encoding, streaming and playback. Join our session to get a complete picture!
Attend this session for your chance to win: Free setup and usage of nanoStream hosted server on your own private instance or free consulting and testing of nanoStream Cloud for one month including WebRTC+H5Live.
Our attendance to Streaming Media East is sponsored by: