In this article, you learn how to configure the Osprey Video Talon 4K Contribution encoder with nanoStream Cloud, for ultra-low-latency live streaming with the highest video quality. You can read more about this partnership here.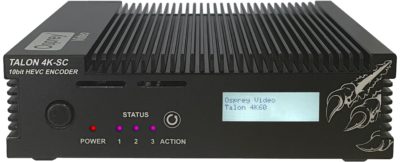 With over 50 years of combined experience in the streaming industry, both Osprey Video and nanoStream Cloud are leading providers in their respective areas. Osprey Video, a company specializing in live video encoder hardware, has made it their mission to provide a seamless and secure delivery of streams to dynamic platforms such as nanoStream Cloud.
The partnership between the two companies is built on a strong foundation of expertise and innovation, and has resulted in a powerful combination of hardware and software that works together seamlessly to provide high-quality streaming experiences. The reliable and efficient hardware provided by Osprey Video combined to advanced features of nanoStream Cloud, results in a top-notch streaming solution for interactive video experiences and audience engagement.
Let's get started!
Supported protocols
RTMP, SRT and WHIP.
What you need
An Osprey Talon Encoder (Osprey Talon 4K-SC)
A nanoStream Cloud Account (Stream Name)
A web browser to access the Osprey Video Encoder
Getting started
Login to your Osprey device
(default login is admin / osprey)
1) Output/Upstream Protocol
Select Channels / Channel 1
In the "Protocol" you can select the upstream protocol.
nanocosmos supports 3 protocols: RTMP, SRT and WHIP
You find the right information in the nanoStream Cloud Dashboard under "Ingest URL".
a) RTMP
Either select "nanocosmos (RTMP)" or "RTMP/RTMPS"
In the destination, copy your RTMP Ingest URL
default: rtmp://bintu-stream.nanocosmos.de/live
In the Stream Key, copy your Stream Name
template: XXXXX-YYYYY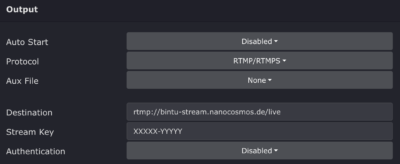 b) SRT
Optionally to RTMP; you can use SRT.
Select "TS over SRT"
SRT Mode: Caller
SRT Dest Address: bintu-srt.nanocosmos.de
SRT Port: 5000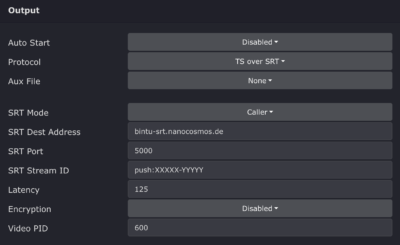 c) WHIP
Optionally to RTMP; and SRT, you can use the WebRTC-based ingest WHIP.
Select "nanocosmos WHIP"
Stream Name: XXXX-YYYYY (nanoStream Cloud Ingest Stream Name)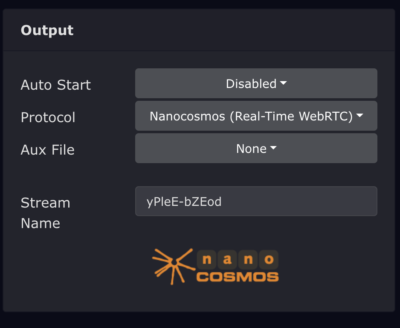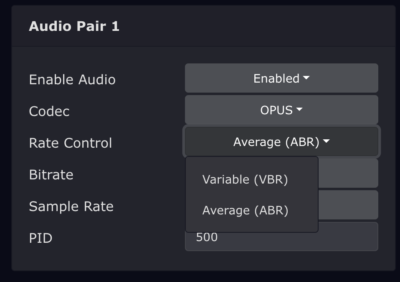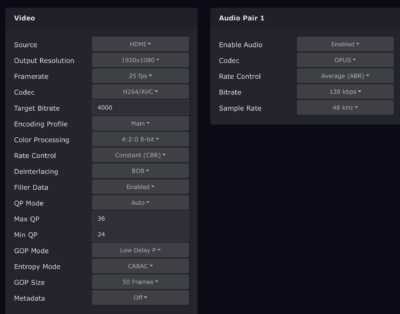 2) Video Configuration
Here you select your live video source (camera)
Source: HDMI or SDI
Output Resolution: 1920×1080
(Note: 4k also works but might require a business upgrade)
Framerate: 25 fps
Codec: H264
Target Bitrate: 3000 kbps (lower or higher possible)
Encoding Profile: Main (has higher quality than Baseline)
Color Processing: 4:2:0 8 Bit (default, higher is possible)
Rate Control: Constant (CBR)
QP Mode: Auto
Max/Min QP: 36/24
GOP Mode: Low Delay (P)
Entropy Mode: CABAC (Higher Quality)
GOP Size: 50 Frames ( = 2x fps )
Audio Codec: AAC-LC
Audio Bitrate: 64 kbps or higher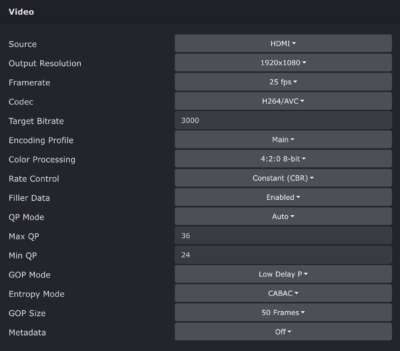 3) Start Broadcast
Click on Actions/Start
You should now see the live stream running in the nanoStream Cloud Dashboard!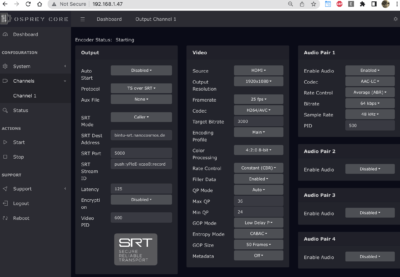 Additional information:
Osprey Talon supports video encoding profiles with higher quality than other hard- or software, like 4K with highest quality. This might require a business upgrade to your account.
Have any questions?
Reach out to our team
Check out our documentation