IBC 2017: live streaming has full power – around the world in 1 second!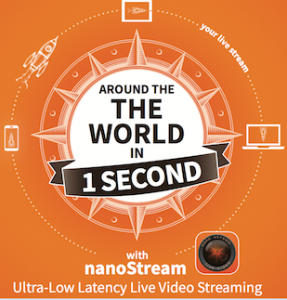 September was an atypical month in Amsterdam when the city was full of technology addicts. Once again, the IBC show brought together the biggest names in the broadcasting market and turned on great discussions about the trends driving this dynamic industry.
Video experts were up to show the world how fast this market is changing, and that who don't carry on with these changes will lose significant business opportunities.
In less than a decade, the video industry went from traditional transmission channels to a real technological revolution, providing content 24/7 and everywhere. The IBC show didn't waste time and brought this theme up by launching its 'content everywhere' hub presenting different debates about new media channels.
nanocosmos presented their nanoStream Software and Cloud solutions at their booth, and Oliver Lietz (CEO), was one of the speakers during the roundtable discussion 'Going Live Over the Top: the rise of live streaming' and gave some valuable insights about this growing industry:
Infinite use cases! Live Streaming is not only about media companies sharing content. Every business has to tell a story!

OTT is driving to an even more interactive communication path!
Ultra-low latency is not an option but a need!

Everyone wants to share its own experiences!
Cloud services came to stay and to make your life easier!
Based on these insights, nanocosmos presented its nanoStream Software and Cloud, focused on bringing the best interactive end-to-end streaming service for business applications. The highlight is the H5Live player, part of the nanoStream cloud service, which comes to prove that the playback round doesn't need to be a latency challenge but an opportunity!
We are up to these incredible changes in the video industry!
Storytelling is a reality for any business, and we want to keep up sharing our experiences! Two seconds is too much, be ready to be around the world in only one second with Nanocosmos!
See you in the next show(NAB?)!