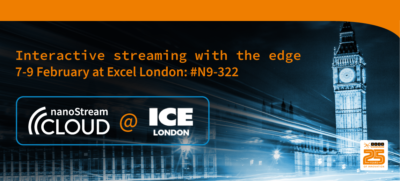 25 years of innovation at ICE London 2023

---
7 – 9 FEBURARY 2023 | ExCel London |  #SN9-322 
New Features to boost your iGaming business.

---
We are celebrating 25 years of innovation with ICE being the first show to present this year's new features of the live streaming platform and API nanoStream Cloud!
At booth N9-322 you can experience real-time streaming for improved Quality of Service and Quality of Experience to serve the increasing requirements that providers of live casinos, betting and iGaming face when it comes to audience engagement.
In addition, the emphasis this year is on nanoStream Guardian for content security, new features to enhance ease of use throughout the platform, and expanded worldwide coverage, specifically targeting the expanding South American market.
Here are our key features of nanoStream Cloud which address key requirements for successful audience engagement:

Browserbased nanoStream Player to

achieve and maintain sub-second latency

, anywhere in the world, based on our unique Adaptive Bitrate technology

Advanced analytics

Secure streaming with active protection against misuse with nanoStream Guardian


Expanded global network (CDN) covering even more areas than before

New ingest protocols, like SRT

100% reliability & 100% uptime, 24/7 operations
ADDITIONAL INFORMATION
---
nanocosmos offers nanoStream Cloud, the preferred choice for many interactive use cases when it comes to ultra-low latency live streaming. We invite you to read the linked articles below if you would like to dive a bit deeper into the topic of interactive live streaming.
NANOCOSMOS RAMPS UP INTERACTIVE LIVE STREAMING AT SIGMA MALTA
nanocosmos presents interactive livestreaming platform with updates for improved QoS & QoE
Read more 
Streaming Media Award
Streaming Media Innovation Award 2022 – nanoStream Cloud won
Read more