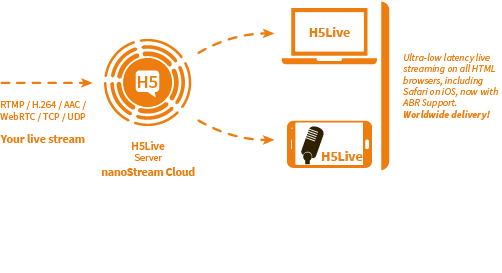 We have released the nanoStream H5Live Player 4.5.6. It includes major improvements regarding Adaptive Bitrate Playback (ABR) for nanoStream Cloud's ultra-low latency live streaming. Please visit our documentation for a detailed description of our stream switching & ABR feature.
Changelog
Added
Seamless ABR and stream switching on iOS/iPadOS for H5Live Low-Latency HLS. The new ABR mode, adaption rule, 'deviationOfMean2' has been added. The new rule is slightly less strict and especially recommended for streams that are already more volatile on the source/ingest side.
This version adjusts the default timeout for stream switch request to 20 seconds to improve the overall switching behavior.
The style.displayMutedAutoplay config property is re-enabled which shows a muted audio symbol in case of muted autoplay.
The style.displayMutedAutoplay option can be disabled to maintain the recent behaviour. The handling of mute states and autoplay has been improved.
Improved
Stability of stream switching on iOS
Connection handling on iOS
Validation of buffering metrics

Release Overview, Release History and Detailed Description
https://demo.nanocosmos.de/nanoplayer/releasepage/4.5.6/1594214283102/

Release Package Download
https://files.nanocosmos.de/index.php/s/oAxiYa5eB2N3HeA
Documentation
H5live Player Introduction
H5Live Player FAQ
Stream Switching and ABR Feature
Please reach out to support@nanocosmos.de for further information or questions.