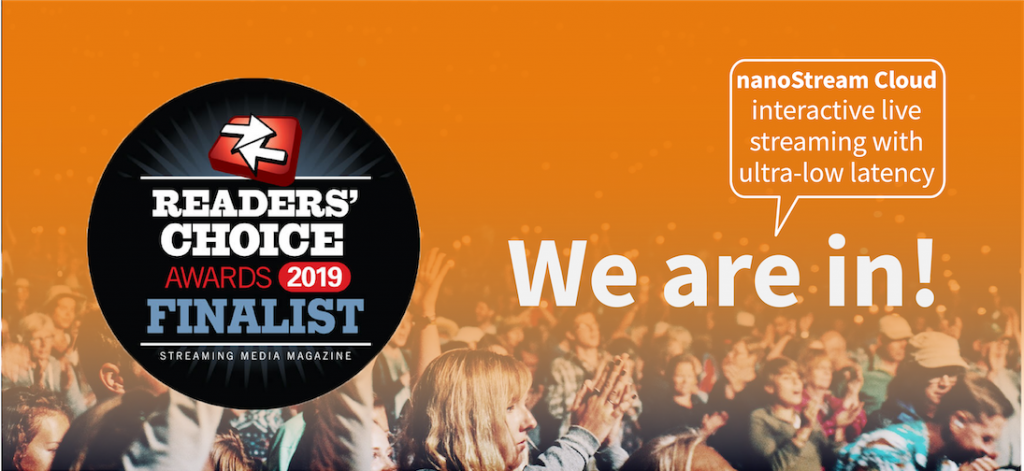 We are proud to announce we are one of the finalists in the Streaming Media Reader's Choice Awards. More than 2,700 readers cast more than 28,000 votes that reflect both the Streaming Media and Streaming Media Producer purviews.
"We are incredibly proud to be recognized as one of the top technologies in the streaming industry. nanoStream Cloud has been in operation for more than three years, and we are constantly improving its features by listening to our customers needs," said Oliver Lietz, nanocosmos CEO and founder. "nanoStream Analytics was launched this year as a new feature included in nanoStream Cloud, and it was a great surprise to be a finalist in such an important category".
nanoStream Cloud is an interactive live streaming platform with ultra-low latency for use cases where every second counts, such as iGaming, Live Auctions and Webcasts.
It includes:
nanoStream H5Live Player for ultra-low latency playback on any mobile and desktop browser, including Safari on iOS
nanoStream ULL CDN with a global footprint
nanoStream Analytics for better insights on your services and improved QoS and QoE
To learn more about our new nanoStream Analytics check this article. You can try it directly at your nanoStream Cloud account. If you still don't have one, get your free trial and start live streaming around the world in 1 second now!