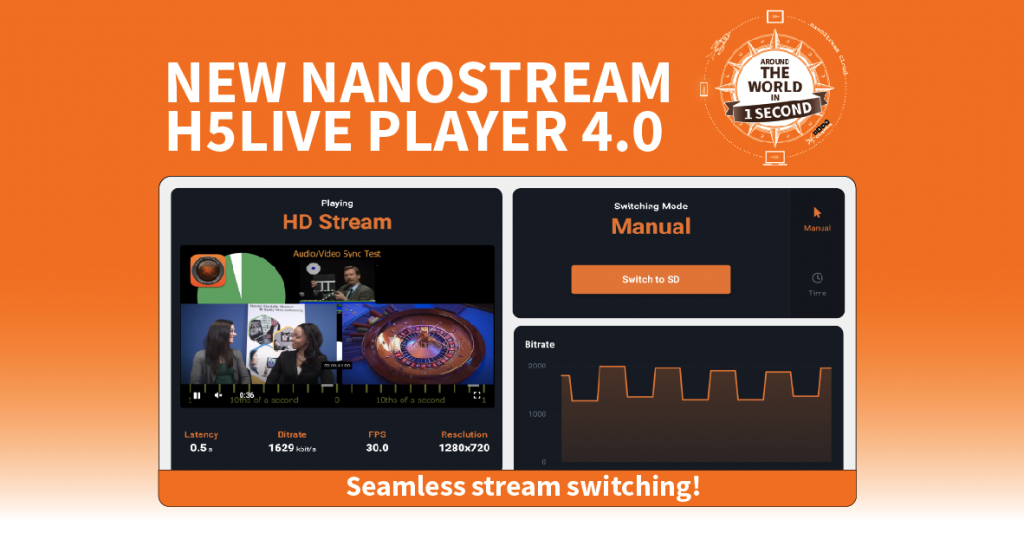 Empowering nanoStream Cloud is one of our daily goals. That's why we keep innovating and bringing important features to help our customers achieving the best Quality of Experience (QoE) to their viewers.
Being that said, we are proud to announce our newest nanoStream H5Live Player version 4.0. Essential part of nanoStream Cloud, nanoStream H5Live Player counts on a unique technology to deliver and playback your live streams around the world in 1 second on any mobile and desktop device, including Safari on iOS.
Version 4.0 raises the level of your live stream quality by enabling seamless switching between different streams. It means you can send streams with different qualities (eg. high and medium) and the player can decide which of them to play, to accommodate the network situations and avoid buffering and frame drops. This is an important feature for adaptive bitrate streaming (ABR), which will be fully enabled in future releases, starting our next 4.1 release!
Interested? Get your nanoStream Cloud free trial account and start live streaming around the world in 1 second!
What is nanoStream h5Live?
nanoStream H5Live is a unique live streaming distribution technology integrated into nanoStream Cloud and it's global ULL CDN. It enables interactive use cases with audience engagement, based on latency values of around 1 second at a global scale. This includes the unique H5Live Ultra-Low-Latency HLS (ULL-HLS) Format for Safari on iOS.
Have you already tested nanoStream Cloud and feel ready to take the next step? Book a package directly at our webpage or request a tailored offer.
If you have any doubts or would like to discuss your use case in detail, contact us!
---
To learn more about the seamless stream switching feature check out here.
For more technical information related to nanoStream H5Live Player 4.0, check the release page here.
*nanoStream H5Live Player version 3 has also been updated. Existing customers should continue using 3.x if not otherwise suggested. Click here to read about version 3.18.7.