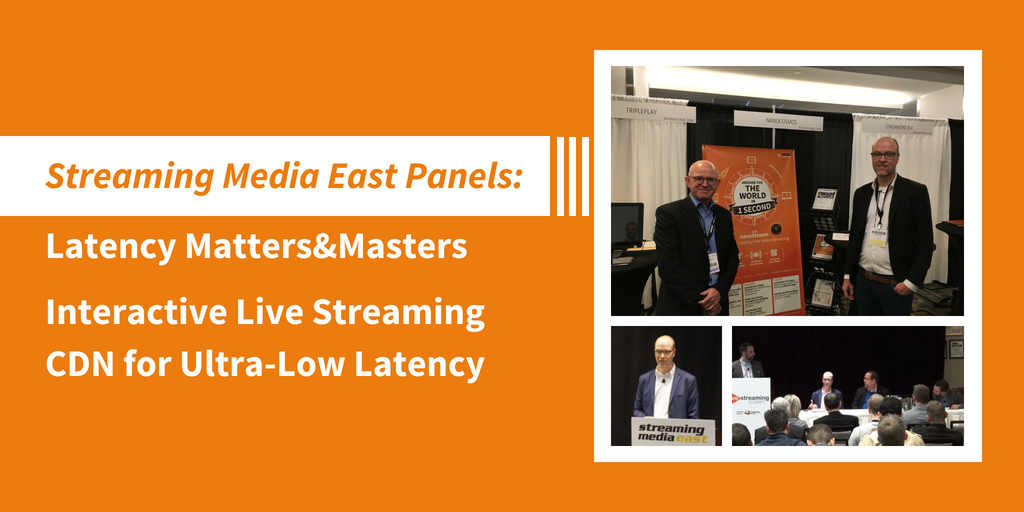 nanocosmos recently attended several meetings in New York and Berlin.
– Streaming Media East in NY
– Fraunhofer Fokus Web Symposium in Berlin
– Video Tech Meetup Berlin
All were absolutely great! Lots of chats about interactive live streaming and how to achieve real ultra-low latency on any device. nanoStream Cloud and H5Live Player took the central stage and stood out from the crowd as the unique technology that takes your live stream around the world in 1 second!
Our CEO, Oliver Lietz, has been invited to share his expertise and valuable insights about latency at 2 conference sessions at Streaming Media East:
the panel Latency Matters&Masters.

Discovery Track session "Interactive live streaming on any device".
nanoStream Cloud and H5Live as an unique technology for ultra-low latency delivery and playback have been the highlight!
Watch recodings of the conference sessions now and learn more about ultra-low latency!
Interactive Live Streaming CDN for Ultra-Low Latency