nanoStream Cloud came to set a new era in live streaming. Customers all over the globe are impressed by its features and seamless ultra-low latency performance. It is not a surprise that nanoStream Cloud is getting along with users and developers from different industries and setting the level higher for any other player in the market! These are the 7 reasons why nanoStream Cloud is winning the hearts of live streaming users all over the world:
1- nanoStream Cloud has ultra-low-latency! The technology reaches what it promises: around the world in 1 second. nanoStream Cloud counts on nanoStream H5Live Player, an HTML5-based solution that live streams with a delay of around 1 second even Safari on iOS. Perfect for interactive use cases when every second counts! Read about such uses cases here.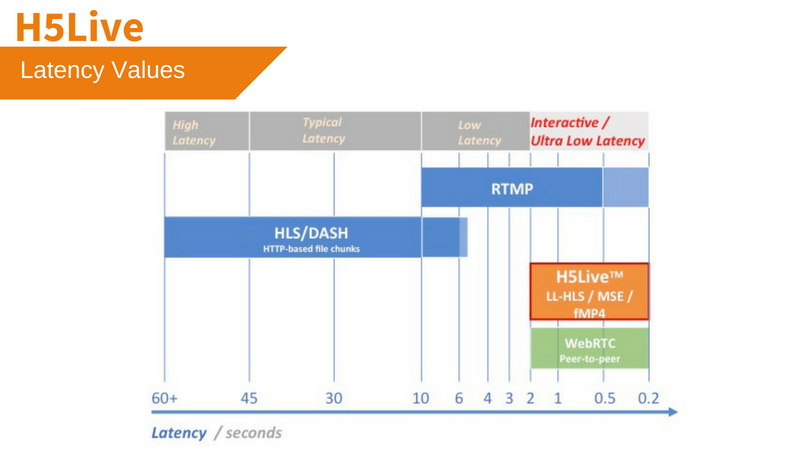 2- nanoStream Cloud is cross-platform! nanoStream H5Live plays your live streams on ALL HTML5 browsers on any device, including Safari on iOS. You don't need to worry if your audience is on desktop, laptop or mobile, you simply can reach them without any plugin! Learn more about the technology here.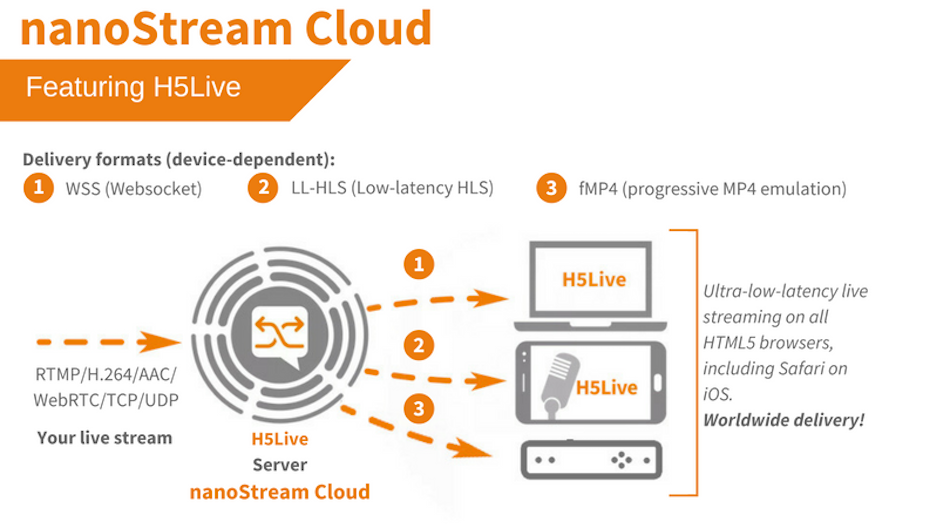 3- nanoStream Cloud is flexible and easy to use for content creators and platform operators! Do you want a complete solution and just worry about the content and the business? Cool, nanoStream Cloud is the perfect end-to-end solution! Do you want to integrate nanoStream Cloud to your existing live streaming workflow? No problem, nanoStream Cloud can also be used as ultra-low-latency (ULL) CDN. Check nanoStream Cloud setups here.
4- nanoStream Cloud can be easily turned into an end-to-end solution! With nanoStream Live Encoder Apps and SDKs you only need to get your camera ready and enjoy the live stream! To go plugin-free, nanoStream WebRTC.live simply starts a broadcast right from your browser. Our nanoStream Live Encoding software available for all platforms , apps and add-ons are there to make a real end-to-end solution! Learn more about our Add -ons here.
5- nanoStream Cloud scales and delivers worldwide as ultra-low-latency (ULL) CDN! nanoStream Cloud platform can scale capacity easily anywhere in the world through its global footprint. The technology is made to help you to achieve real interactive live streaming, does not matter how you want to do it! Your live streams go around the world in around 1s ! Read more about our ULL CDN!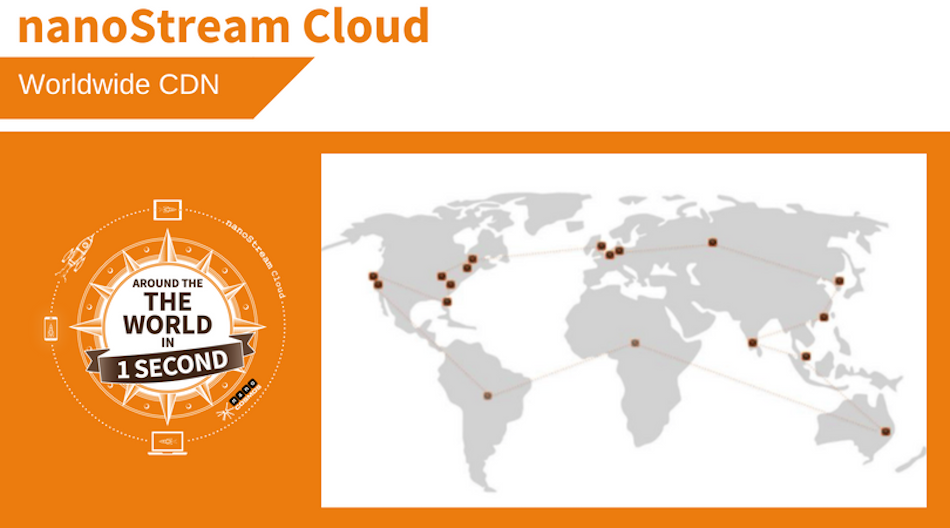 6- nanoStream Cloud is cost-effective! It cut costs for setup, hardware and maintenance, and do not require strong in-house expertise in live streaming infrastructures. Many companies also struggle with the vendor fragmentation and mix and match of different technologies from different sources. nanoStream Cloud is created to provide a hassle-free solution for live streaming businesses. Check here what we need to offer you the perfect nanoStream Cloud package.
7- nanoStream Cloud with the integrated H5Live player is Enterprise-Proof! It is in full production and trusted by many businesses worldwide. If you need any kind of customization or enterprise environment and additional services, our team of experts is ready to help you to achieve your goals! nanoStream Cloud counts on a high-skilled and experienced team prepared to give your the best support and find solutions to your interactive live streaming challenges.
How about you? Are you convinced about nanoStream Cloud with the integrated H5live player? Share with us why you enjoy it or try it by yourself right now and understand why we are setting a new interactive live streaming era with nanoStream Cloud!