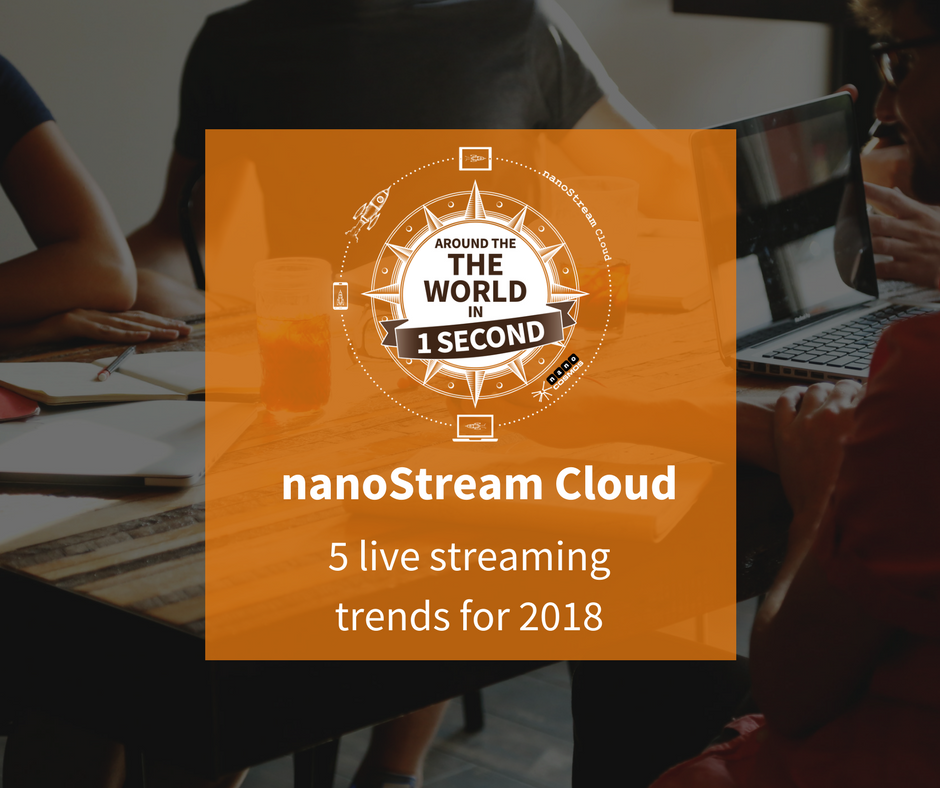 Live streaming is a success, no one can deny it. This shouldn't be a surprise though. Watching live videos from wherever you are and accessing any type of content from different countries are definitely reasons enough to make this a $70 billion industry by 2021.
The boom of content generation has significantly changed the way we communicate to our audiences, and basically every business has now a story to tell online.
It doesn't matter if you are a business webcaster, a 24/7 security and monitoring company, an iGaming producer or an online auctioneer. You as a platform provider and/or a content generator have live streaming as crucial point of your business.
As in any growing industry, every year the expectations rise and new trends must come up to fulfill consumer needs. Platform providers and content generators all over the globe will need to bring the best live streaming experiences to viewers around the world in a cost-efficient and effective way. So, what can we expect in 2018?
These are the key trends we see:
Cloud-based solutions: efficient, optimized workflows, scalable worldwide

Interactive applications: engage your audience – requires ultra-low latency around 1 second

Cross-platform: content anywhere

Simplicity: instant live streaming – go live easily on any device

Softer borders:  professional broadcast vs consumer content generation
1 – Cloud-based end-to-end workflows
Finding the right solution for creating and delivering high quality live audio/video content drives many businesses crazy. Fortunately, the times we had to figure everything ourselves to create efficient infrastructures are gone.
Cloud-based solutions are bringing numerous benefits to your business by taking away setup, deployment and maintenance effort. End-to-end solutions connected to a cloud service create efficient business processes and the best quality of service you can get, allowing you to focus on your own business success. Complete end-to-end setups avoid vendor fragmentation and mix and match of different technologies from different sources.
Efficiency. Cloud solutions are extremely cost-effective since they cut costs for setup, hard- and software and maintenance. Besides, they do not require strong in-house expertise to create live streaming infrastructures.
Scalability is not a threat but a strength. The improvement of cloud developments turns scalable live streaming easier and smoother. Adapt to dynamic audiences and reach them all over the world without struggling through a trustful cloud-based workflow.
2 – Interactive applications
To engage your audience, long latency periods are inacceptable and real-time interaction is one of the most important trends for 2018. With the rise of iGaming and online auctions, interactive live streaming is not only about motivation but also about ensuring fair experiences to every viewer.
Building interactive applications means achieving ultra-low-latency in every step of the workflow. This, on the other hand, should sum to around 1 second in total!
The viewers are more demanding than ever before. Contents that have long latency periods will start being refused by the audience.
3 – Cross-platform
If we check any recent online survey about internet use we will find the same results: mobile and web browser users keep increasing, and tablets and smartphones are responsible for a great percentage of online content consumption.
Delivering content on any device is now mandatory. We can't – and we won't – reduce the importance of desktops, that's why any live stream must be cross-platform and be able to reach viewers – end-to-end – on any device.
It is important to ensure that the idea of cross-platform is made right though. Having a live streaming application that requires complex setups or plugins or that only works in specific browsers is not enough. Real cross-platform applications should work on any device and all browsers, incl. Safari on iOS!
The viewer does not want to download and install extra apps or move to a desktop to watch a live stream. It must be browser-based, simple and intuitive!
4 – Simplicity
Everyone wants to tell a story but not everyone has the expertise or the time to learn how to live stream. That's why we tend to see simpler browser-based live streaming applications in 2018. When we say simpler, we don't mean less quality or features, only less complex. New live streaming solutions will be easy to use and intuitive, letting users focus on their content.
This type of business is usually called SaaS and PaaS (software or platform as a service) and it is a huge trend in many tech areas. It should keep growing more and more during this year.
5 – Softer borders
Professional broadcasting and consumer content generation are no longer extremely different things. Due to the ease of use and the great amount of conversion of popular tools such as Youtube, Facebook or Instagram live streams, even professional broadcasters are moving towards social media live streaming.The traditional TV model we have been using for decades has considerably decreased and we tend to see more and more business moving towards new technologies.
The boom of 'content everywhere' is being so huge that we can already see many vertical markets picking up the challenge of live video. Not only social media but also Live casinos and online auctions are good examples of industries using professional live streaming solutions to reach their viewers. Different than social media live streaming, professional live streaming tools offer customized and personalized solutions with results as good as traditional broadcasting.
Are you ready to catch up with all these trends? Find out how nanoStream Cloud can help you more than you have ever imagined! Read more on nanoStream Cloud.