nanoStream App 5.0
major upgrade for nanoStream Cloud and H5Live
Live Streaming Around the World in 1 Second!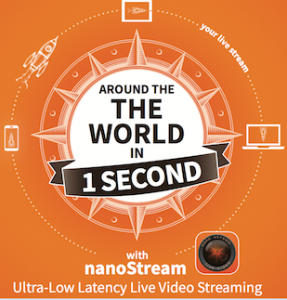 nanoStream App 5.0 is a major upgrade which integrates with nanoStream Cloud and H5Live for ultra-low-latency delivery and playback worldwide.
Easily create live broadcasts from your app and share with audiences worldwide- in ultra-low-latency, plugin-free playback on any browser with our unique nanoStream H5Live technology!
You will find nanoStream App in the App Store.

Contact us to create live streaming applications for your own brand!