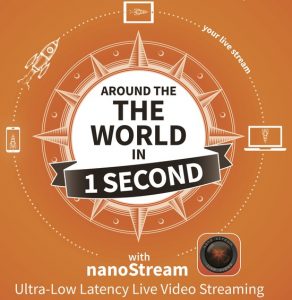 We are looking forward to an eventful spring with exciting conferences and webcasts for live streaming innovations.
Meet the nanocosmos team at NAB in Las Vegas and Streaming Media East in NYC, or attend our Roundtable Discussion.
Meet us in Vegas at NAB (April 22-25)

Let's have a chat about our newest interactive live streaming technologies: the H5Live player, WebRTC.live, the nanoStream cloud platform with it's worldwide CDN for ultra-low latency live streaming, and consulting and development services for your live streaming projects.
We won't have a booth this year, so please schedule an appointment via phone: +49 30 43032411, email: sales@nanocosmos.de or Skype: nanocosmos.
Register for our Free Webinar with StreamingMedia.com (May 2)
Learn more about cross-platform, low-latency live streaming applications and plugin-free solutions for all platforms!
Register for free: "The Best Ways to Reduce Latency"
Tuesday May 2, 11.00 AM PT / 2.00 PM ET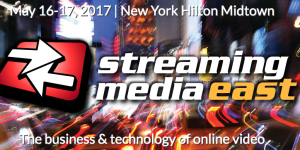 Meet us at Streaming Media East (May 16-17)
Check out our booth at this year's Streaming Media East in New York City, May 16-17, at the Hilton Hotel Midtown.
Find us in the International Zone, or schedule an appointment with our team via email (sales@nanocosmos.de), phone (+49 175 5667641), or Skype (nanocosmos).

Special Tip: Attend my speech at Streaming Media East's Discovery Track: "Interactive live streaming with ultra-low-latency is on the rise: How to reach your audience on any platform" – May 17, 12:10 p.m. – 12:30 p.m (more info). Attendees will have a chance to win a free setup and usage of the nanoStream hosted server on your own private instance or free consulting and testing of the nanoStream Cloud for one month including WebRTC+H5Live.
See you in Las Vegas and New York, online at the Roundtable Discussion or in our own WebRTC Chat Room for personal consultations!