nanoStream WebRTC Video Communication and Broadcast
Simplify your business communications with nanoStream WebRTC video chat combined with low latency RTMP broadcast. Develop your own unified communications system with nanocosmos WebRTC toolkits for browser-based live video communication!
Nanocosmos' new WebRTC server and client toolkits make in-house communication for corporates and institutions easier, more effective and safe. WebRTC, or Web Real Time Communication, enables plugin-free video broadcast and video chat communication through the browser. No new app install necessary, no download – a simple but secure browser-based application, with a user interface that can be customized to suit your corporate environment.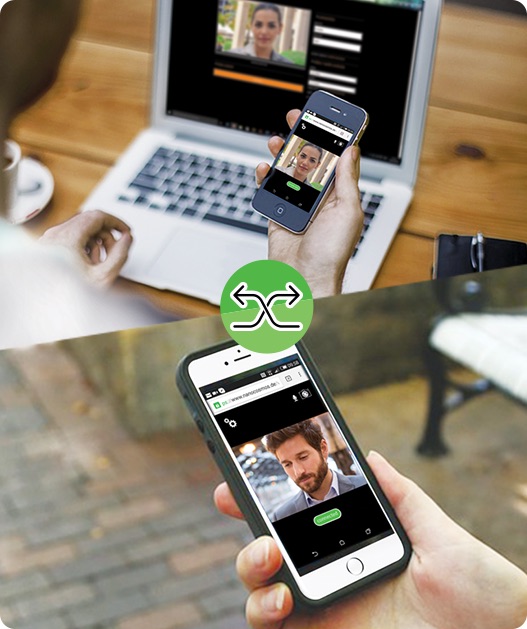 Nanocosmos is a software leader in cross-platform live video encoding, streaming and playback technology. We offer end-to-end solutions for Windows, MacOS, iOS, Android, Browser or WebRTC applications. Our customers create high quality content and deliver high quality and low latency video to viewers around the world.
Our new nanoStream WebRTC software allows to securely engage in conference calls with customers, employees, or for recruitment purposes. It can also be used to broadcast your company event to streaming environments and CDN to viewers around the world. All in all, it combines the benefits of instant video chat and broadcast, screen sharing with secure video in the cloud or on-premise on your own company servers.
A stable, fully developed end-to-end video chat, video conference and live video streaming technology that covers all your internal communication needs: conduct remote interviews, set up meetings, and share documents and presentations. Our nanoStream WebRTC client and server software enables you to run video chats with employees and clients through your own server and store the videos safely.
Are you looking for a low latency web-based and safe solution for all your corporate communications and webcast plans?
Nanocosmos has the knowledge and expertise to encode, stream and playback your live content from any camera to any viewer with low latency.
Contact us for a personal WebRTC video chat and RTMP broadcast demo!