nanoStream – create live streaming applications for your own brand!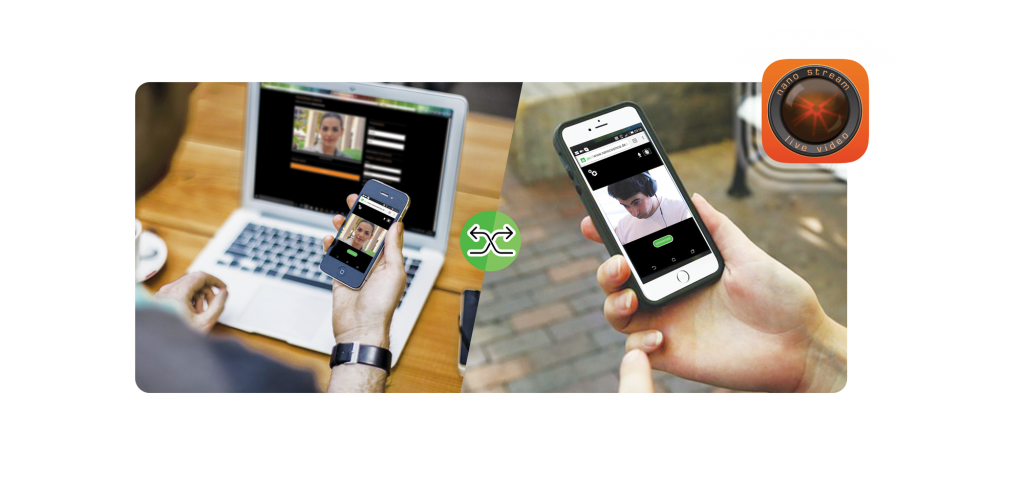 The nanoStream software, available as a customizable app or SDK for development, simplifies creating end-to-end applications for user-generated live video streaming.
Whether it is for business, entertainment, sports, or politics, our customers have found creative uses of video streaming applications. Apps like Periscope and Meerkat show new use cases for user generated live content. With the nanoStream software, you can create your own live video streaming app, go live and share within seconds. nanoStream offers best conditions for end-to-end interactive communication on your website or mobile app.
Musicians and entertainers can promote their work directly with their fans through apps running on nanoStream with an integrated live video player. Other developers use nanoStream software to connect people with celebrities worldwide. They enable live video streaming to friends and followers, or to help aspiring entrepreneurs interact with their customers.

nanocosmos' software is also used to instantly share live sports or political events on social networks, and live streams of e-sports are widely enjoyed by our customers. Our encoder and player software accomplish low latency, so your viewers are not disturbed by a lagging transmission, but will enjoy a great game.
Journalists use nanoStream to directly stream live videos of current events from their own apps. Our software guarantees media companies full control over the content, for a fast and safe broadcasting of breaking news.
Building your own app to promote user-generated content and streaming it live is easy with nanoStream's high quality products. Our services and products are recognized by both product developers and businesses as a great foundation for social media streaming apps.
Try nanoStream mobile for your business – create new ways to connect people and explore the possibilities to stream live videos, news content or sports events!
Now including our new end-to-end bintu.live streaming service!
nanocosmos website
download the live streaming apps here:
Apple AppStore/iTunes
nanoStream Live Encoder – nanoStream Live Player
Google PlayStore
nanoStream Live Encoder – nanoStream Live Player
General nanoStream download area for all Apps and SDKs