Nanocosmos customer Hang w/ created an interactive live streaming platform for influencers and their fans. Live video streaming is a growing market and an important trend in marketing and content distribution. To build a reliable platform, Hang w/ decided to go with nanocosmos' trusted streaming technology and the possibility of cross-platform application.
"Hang w/ is live-streaming video from one to many, creating authentic, human and engaging social media relationships – with a monetization layer built in."

Andrew Maltin, CEO Hang w/
Broadcasters are thrilled to use Hang w/: they can share their live streams across any platform and instantly reach millions of viewers, or on their own website. In fact, Hang w/ sees the benefit of their service to other live streaming services like Periscope and Meerkat in its independence from any major social media platform.
nanoStream products work across platforms, so Hang w/ is accessible on laptops, tablets, or phones. The low latency of nanoStream live streams makes it easy to share and watch live streams on several devices and multiple users can enjoy a stream without experiencing lagging. The videos are available in an archive after the stream, and they can be shared publicly or privately.
Hang w/ is packed with many other functions that users enjoy. While the audience watches a stream, users can comment and the broadcaster can react in a chat or directly through the live stream. This leads to a truly interactive experience, which can be used in teaching settings or while working on a common project.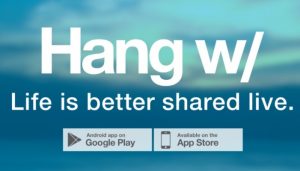 With the pay-per-view services "Digital Tickets" and "Digital Tips", Hang w/ includes monetization possibilities in their platform for aspiring entrepreneurs and celebrities.
All of these functions are easily compatible with the nanoStream Player and Encoder SDK. nanocosmos provides full support for its customers to develop their
Whether you want to develop your own live streaming app and tap into the world of live video streaming, or get a fully developed private-label app for your company, get in touch for pricing and products. We offer end-to-end solutions for businesses and developers, as well as mobile toolkits to develop your own app on any platform.
Contact us today!