SPIEGEL-Gespräch – live an der Beuth Hochschule mit Hartmut Mehdorn. "Zu teuer, zu komplex? Deutschlands Probleme mit Großprojekten" am Mittwoch, 15. Januar 2014, 17:00 Uhr, Beuth Hochschule für Technik Berlin, Haus Grashof, Ingeborg-Meising-Saal, Luxemburger Straße 10, 13353 Berlin.
Streaming powered by nanocosmos / nanoStream
Live Video Encoder and Streaming Cloud Server
Setup by Beuth Hochschule für Technik
Full HD, 1080p, 1.5 MBit/s
The live streaming setup shows the high quality of nanocosmos codecs for Full HD with small bitrates.
Running at SPIEGEL Online – Germany's largest news web site
Press Info at Beuth University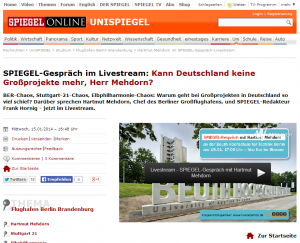 Resulting statistics:
Outgoing server bitrate: 800 MBit/s
Number of average viewers: 500
Total Number of views on site: 2800