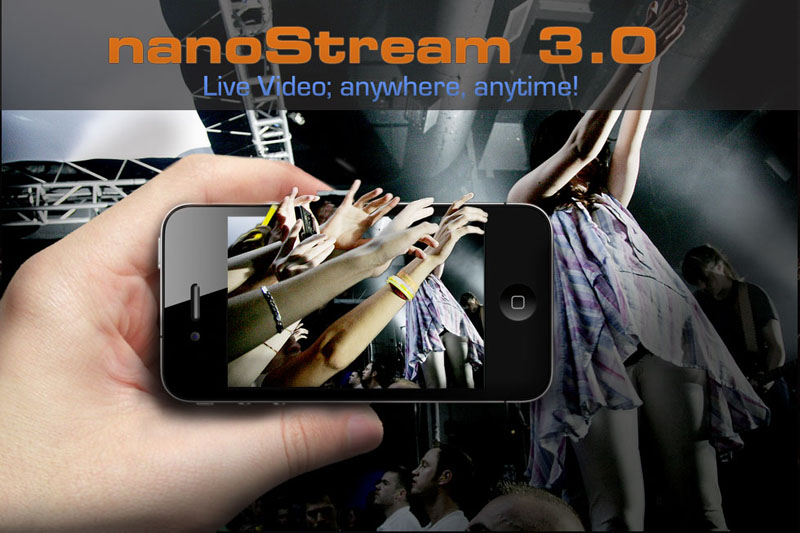 NANOSTREAM 3.0 –  SDK and Web Plugin for live video encoding
nanocosmos GmbH, http://www.nanocosmos.de, a technology leader for video encoding and streaming software, is proud to announce the 3rd generation of its nanoStream Live Video Encoder product range nanoStream 3.0, including nanoStream SDK and Web Plugins
Using the nanoStream SDK and Web Plugins is the easiest way to create custom live encoding and internet streaming applications. You will find it being used for professional 24/7 applications from streaming live sports, entertainment, e-learning, surveillance to video conferencing and chat.
nanoStream 3.0 contains many new features, a new SDK and Web Plugins for Windows and MacOS, as requested by our worldwide licensing customers.
The new multi-encoder streaming function allows parallel live encoding and streaming with multiple video formats and quality levels at the same time. You can even record video in Full HD to H.264/MP4 or MPEG files, in different quality video streams.
With our new Silverlight support for WindowsMedia, Streaming to WindowsPhone devices is possible, in combination with Microsoft IIS Smooth Streaming servers.
The nanoStream 3.0 software now supports additional protocols for streaming to Wowza and other streaming servers, CDN networks like Akamai and Cloud based servers like Amazon EC2. Including support for RTMP-T tunneling protocols with authentication and encryption, for corporate usage.
Feel free to try our demo with our simple nanoStream web encoder application and see a live stream from your Windows or MacOS browser within a minute!
nanocosmos also offers many different modules including ScreenSharing, IP network cameras (Canon, Axis), 3D Stereoscopic Streaming, HTTP Live Streaming (HLS), IPTV Transcoding for UDP-TS Multicast Applications, MXF file formats and many more, available based on the nanoStream API or as separate modules and DirectShow filters. Additional tools for command line integration allow even more flexible integration into custom applications; more than any other popular encoding tools on the market today.
nanoStream SDK with its simple API is compatible with the most popular programming languages and technologies and can be easily integrated by software developers into custom streaming apps either for the desktop or web applications. It is available as Active-X and Web Browser Plugin, DirectShow filters and desktop and command line applications, for Windows and MacOS. The flexible modular architecture contains software and hardware accelerated encoders for H.264 and MPEG-2 based on nanocosmos technology and Intel QuickSync.
list of additions and changes:
– multi-encoder streaming, multiple encoders with multiple bit rates
– h.264 and aac video and audio encoding including hardware acceleration
– support for silverlight / iis / mms streaming
– improved support for DV / Firewire capture devices
– improved support for file streaming and loading DVDs
– improved text/image overlay
– improved screen capture
– added support for canon IP cameras
– improved MPEG-TS encoding for storage and udp multicast streaming
– improved bandwidth checker
– improved XML profile handling
– improved remote network control
– improved audio handling / mute / stereo/mono
– improved command line encoder for Windows and MacOS
– new web based encoder for Windows and MacOS
– improved 3D-Stereo support and stereoscopic player
About nanocosmos
nanocosmos located in Berlin, Germany, is a technology leader for professional video streaming, broadcast applications and toolkits. The nanocosmos software system has a proven track record in providing 24/7 high quality video with its software components for professional video providers such as The Berlinale Film Festival, RTL Television and streaming web sites for sports, entertainment and corporate use. We enjoy working closely together with our worldwide license customers in creating the best software environment available to ensure successful video integration into your product.