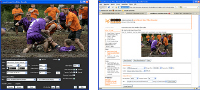 NEW nanocosmos Live Video Encoder 2.1
We are very proud to announce our nanocosmos Live Video Encoder 2.1 software toolkit.
For over 18 months we have been working on improving our encoding, streaming and studio products and we are happy to share our results. The new version which will be introduced today features a lot of enhancements based on our valued customers feedback. We are very excited and delighted to provide this streaming toolkit for streaming professionals, software developers and enthusiasts.
nanocosmos – Professional Video Encoding, Streaming and Broadcast Codecs
There are a number of enhancements following facts and features have been put into this version 2.1. See below.
Possible Applications:
Live Internet Streaming for Live Events
Browser based live Streaming/ live Encoding
H.264 Live Encoding / Live Stream, Compatible to Wowza and Flash Media Server
Live Video Conferencing
Digital Signage
Business applications, Medical Systems, Surveillance
Mobile Streaming (iPhone, iPad, Android compatible)
Usage Scenarios:
Application with GUI or Command Line
Web Browser Plugin Based Encoder
Application Plugin (Active X and NPAPI) for Application Development
DirectShow filters for Video Developers
Supported System Environments
Supported Browsers: Internet Explorer and Firefox
Supported Formats: H.264 / AVC / Flash / RTMP / MPEG-2 / WMV
Supported Environments: Visual C++, C#, VisualBasic, Delphi
Video Capture Plugin available for Windows. Available as Active-X Control and Netscape Plugin (Firefox etc.).

Request an evaluation of nanocosmos Live Video Encoder here!

New Features for nanoStream Version 2.1
New: Remote Wowza and Flash Media Server Recording (DVR)
New: MP4 Segmented File Writing
New: MP4 FastStart indexing for VOD streaming
Improved H264 Quality / Main Profile / Extended Profile
Improved 24/7 Operation
Improved Automatic Network Reconnect
Improved MP4 Recording during RTMP Streaming
Improved RTSP Streamer and Source Filter
Improved Text/Bitmap Overlay
Improved Format Selection / Rescaler
Improved Remote Control
Improved API
Improved Documentation
Changes for nanoStream Version 2.0
New: Auto-Adjust / Adaptive Bitrate
New: Bandwidth-Checker
New: Bitrate Statistics
New: Multi-Target RTMP/MP4 Encoding and Streaming
New: AEC support (Audio Echo Cancellation)
New: RTMP Source Filter for MediaPlayer playback (H264, AAC and MP3)
New: RTMP Messaging / Meta Data / Cue Points
New: Automatic Reconnect on Network Errors
New: Support for IP Cams (Axis MJPEG)
New: Audio Level and Mute function
New: Screen Capture Driver for Desktop Sharing
Improved XML Config and Command Line Encoder
Improved RTMP Authentication
Improved Javascript API
Improved Compatibility with Firefox, Chrome, Safari
Improved Event and Error Handling and Logging
Improved Video Mixer and Text/Bitmap Overlay
Improved 3D Stereo Video Mixer
Improved 3D Stereoscopic Player
More Programming Examples for HTML,JS,C,C++,C#,VB,Python, etc.
Please contact us for further details and get in touch with us to proceed with an evaluation.