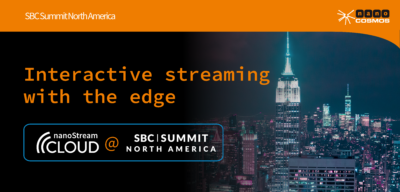 nanocosmos presents nanostream Cloud at SBC Summit  I  North America

---
JULY 12-14, 2022 | MEADOWLANDS EXPOSITION CENTER, NEW JERSEY
nanocosmos is excited to showcase the new generation of nanoStream Cloud with newly added features for interactive live streaming at SBC Summit North America, the Leading Sports Betting and iGaming event in North America. which continue the product's focus on Quality of Service and Quality of Experience and empower platform operators to deliver state of the art streaming experiences for their customers:
The new zooming tool in nanoStream Analytics provides additional information that reveals insights regarding streaming performance and helps operators to optimize stream quality. With a simple click e.g. top ten IPs or stream names can be retrieved in relation to ingest or playout to name just a few areas where operators can dive deeper and understand the performance of their streams. The information is available instantly and helps operators to act in a timely fashion to improve the quality of a stream.
Sub-second streaming over any network is something we have already tackled. As you know,  players who access games via their mobile device are the prioritized audience for operators worldwide. The introduction of Live Transcoding &  Adaptive Bitrate Playback was a successful step to compensate for this scenario and to deliver a smooth streaming experience anywhere in the world.
---
Just recently nanocosmos announced the new release of nanoStream Cloud which not only reduces latency further to remain sub-second, but also takes it a step further and makes interactive live streaming about more than just latency. The approach integrates other elements that proved to be especially relevant during the time of increased virtual interaction like quality of service and quality of experience for end users, data driven streaming and streaming protection.
nanoStream Cloud is the preferred choice for major live casinos and betting companies when it comes to ultra-low latency live streaming. To help tackle the challenges around betting and streaming, we have prepared a super guide that can be downloaded here.
European Gaming News
nanoStream Cloud at ICE 2022